EYRE TO THERE AVIATION BREAKS WORLD ENDURANCE RECORD FOR ELECTRIC AIRCRAFT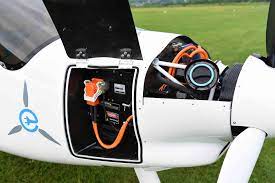 ---
South Australian-based Eyre to There Aviation, in partnership with platinum sponsor AvPlan
EFB, has achieved a world endurance record for an electric aircraft, breaking the previous mark
set in Germany last year.
Flying a Pipistrel Alpha Electro plane, Eyre to There Aviation Managing Director Barrie Rogers
and his team arrived in Port Augusta late yesterday (Friday June 25) after breaking the previous
mark of 750km on the leg between Shoalwater Point Station and Whyalla. They will continue to
Adelaide and aiming to achieve 1350km by the end of the journey.
Along the way, the team has also broken other world records for electric aircraft including
longest over-water flight (30.8km); furthest distance in a 24-hour period (330km); and
fastest speed between waypoints (177km/h ground speed).
Barrie says the team has battled strong winds and rain as well as below zero morning
temperatures to achieve the record.
"It's been a mammoth effort by everyone involved to achieve this incredible feat. The weather
hasn't exactly been on our side – we had ice on the wings one morning and were grounded in
Port Lincoln due to an intense low pressure system," Barrie says.
"On the plus side, the aircraft and the recharging systems have held up incredibly well. It has
gone a long way to proving the endurance and reliability of the Pipistrel Alpha Electro plane.
"Because we can only fly about 125km before having to recharge, we've been landing in some
pretty remote locations, including dirt airstrips at Corunna and Nonning sheep stations on the
Eyre Peninsula."
The flight team and support crew includes three pilots, five on-the-ground support crew, a
second support (petrol-powered) plane, and two vehicles carrying recharging equipment for
the aircraft.
The Pipistrel Alpha Electro – dubbed the 'Tesla of flying' – has a flight time range of about 1 hour
and cruising speed of 85 knots (157km/h) so each leg has been carefully planned and build in
contingencies for weather.
Barrie says the Pipistrel Alpha Electro is the world's first and only serially produced electric
aircraft currently approved in Australia for flight training by the Civil Aviation Safety Authority.
"This record attempt will further demonstrate the overall viability of this aircraft, with a view to
one day setting up an assembly line in Adelaide producing up to 40 aircraft per year," he says.
"Electric aircraft are cheaper to buy, cheaper to run, significantly quieter and don't rely on fossil
fuels. They are ideally suited for short range flight training activities.
FLIGHT PATH TO DATE:
Parafield – Lower Light – Balaklava – Snowtown – Port Pirie – Whyalla – Corunna Station –
Nonning Station – Kimba – Cleve – Ungarra (Rosevale) – Port Lincoln – East Dog Fence RD Airstrip
– Cleve – Shoalwater Point Station – Whyalla – Port Augusta
PILOTS:
Barrie Rogers, Catherine Conway OAM, David Bradshaw
Platinum Sponsor: AvPlan EFB
Flight planning has been made much easier using AvPlan EFB (Electronic Flight Bag) which is a
Part 175 CASA approved electronic flight bag for pilots enabling them to plan, brief, file and fly.
The software application for iOS and Android devices offers unrivalled weather information,
synthetic vision, weight and balance, live traffic, easy NAIPS flight plan filing and access to
NOTAMs. The AvPlan EFB app is simple to use and allows pilots more confidence and situational
awareness – regardless of where or what they fly. The app is suitable for local VFR recreational
pilots through to professional IFR operations and aviation organisations.
Gold Sponsor: Aerometrex
Aerometrex is a geospatial tech company that has provided full mapping services to the
Australian community for over 40 years. Today the company is synonymous with a range of
spatial data, from aerial imagery to 3D models and LiDAR. It has been at the forefront of
cutting-edge spatial research & development and its drive for innovation has helped it stay
ahead of the curve in the industry. Aerometrex is proud to be partnering with Eyre to There
Aviation for this phenomenal feat and believe that innovation like this helps make leap changes
within the aviation industry, and benefits a range of others.
Silver sponsors:
West Coast Bitumen
RAAus (Recreational Aviation Australia)
MEDIA ENQUIRIES: Barrie Rogers (Eyre to There Aviation) – 0475 693 348
Mark Williams (Hughes PR) – 0401 147 558
Social media updates: https://www.facebook.com/eyretothereaviation
https://www.linkedin.com/company/eyre-to-there-aviation/