---
Adelaide Airport Facility
November 2008 – February 2009
5DME followed the recent  replacement of the old 44 radar unit at the Bureau of Meteorology Adelaide Airport Facility. The unit has been replaced with an upgraded and refurbished radar.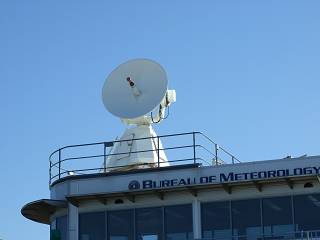 Firstly some details about the old radar.
Manufactured mid 20th Century.
Weighs over 3 tonnes.
Exposed dish.
Heavy componentry/motors etc.
Prior to 2005 the radar was used to track weather balloons and create the usual radar sweep of precipitation that we see from current radars. After 2005, when Buckland Park came on line the airport unit was only used to track weather balloons.
Reasons for replacement.
Due to its age and hard to source spare parts.
A spectrum change was required.
New technology also allows operator training in much shorter times.
New Unit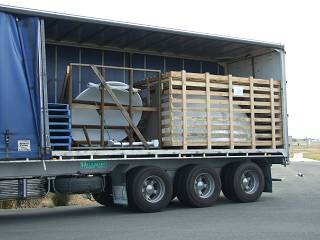 The replacement is a refurbished and upgraded unit. It is of the enclosed/dome type. This allows for much smaller drive motors as the dish does not have to resist the wind.
For example, the old horizontal drive motor was some 35kgs and the new one can be picked up in one hand.
As mentioned earlier there was also a need to shift the operational frequency at which the unit operates. This was at the request of the ACA to accommodate latest spectrum usage requirements.
PHOTO: The new radar was trucked in on 23rd Jan 2009.
Arrival and Unpacking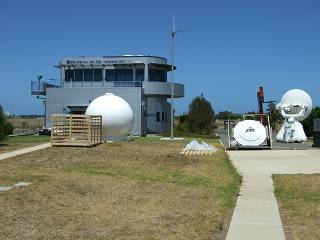 Installation was over the next week and commissioning during February 2009.
Firstly the dome was assembled at ground level. Then the dish attached to the mount/servo mechanism.
The photo opposite shows from left to right: New dome assembled, new dish in crate, Old 44 unit that is being replaced.
The dish was the lifted onto the building then covered with the fibreglass dome.
Installation
Below is the new dish ready to be lifted onto the building. The next image is the dish unit being lowered into position.
Following that, the dome is being installed over the dish.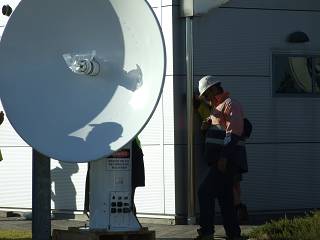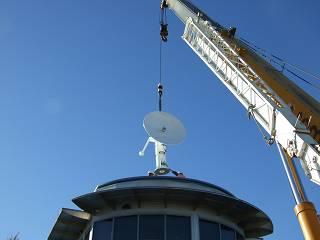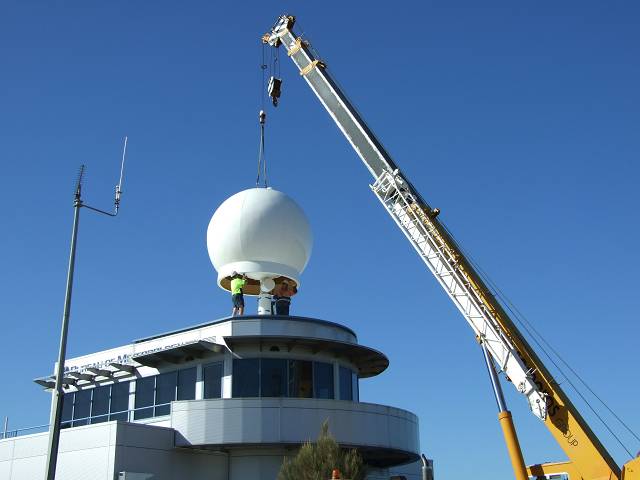 Notice the absence of the hand railing that surrounded the old unit. The new radar being significanltly lower than the old unit meant the railing was in line with part of the radar beam. Thus had to be removed. Access is now internal via the dome through the roof.
Hardware/Racks
The new system also required new equipment to drive the roof unit. Following are some photos of the new rack cabinets and associated electronic equipment.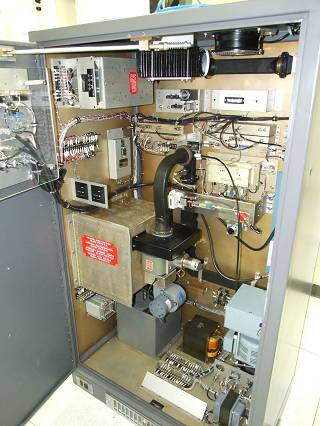 The photo opposite is of the main electronic rack cabinet for the new radar. In the centre of the picture is the magnetron that is used to generate the radar beam.
In the Dome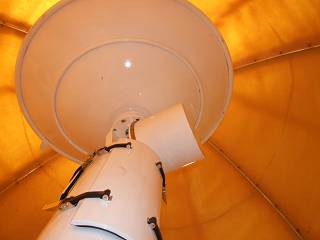 This photo is taken up through the roof access point into the dome.
As can be seen the dish and associated servos are protected from the elements.
5DME will endeavour to attain some technical specifications of the new unit and publish for those interested.
For more images of the upgrade see the video and photo galleries.