---
New Control Tower Facility at Adelaide Airport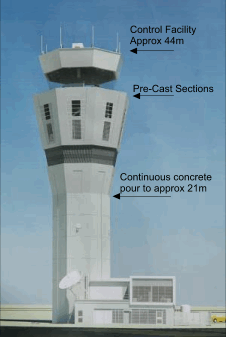 Today (30 July 2010) Airservices Australia marked the commencement of construction of a new $16.9million Hi-Tech Control Tower at Adelaide. The tower will be 44m high and by strange coincedence located mid-point between where the old terminal control tower and the original temporary control tower that was used in the late 1950s.
Airservices CEO, Greg Russell, said the location took into account recent and future developments at Adelaide Airport, including its multi-million the development of the new terminal.
The new tower's tech compliment will include customisable touch-screens for controllers to perform tasks. It will be similar to the glass-cockpit in modern aircraft incorporating flight and operational data, voice communications and surveillance.
"Airservices is committed to using the latest technology to safely and efficiently manage passenger aircraft throughout Australia, particularly at our major airports," Mr Russell said.
"The tower will greatly enhance our service delivery in Adelaide. It ensures we are in a position to meet the anticipated growth for air services and provide safe, efficient air traffic operations in Adelaide well into the future."
Illustration: Artist's impression

Interview with Greg Russell, CEO Airservices Australia [play]
Construction
The tower will be a concrete construction, with control cabin panels assembled at ground level and lifted into place by crane. Specialised single pane glazing on the cabin will ensure stringent optical, thermal and acoustic performance to ensure controllers can carry out their tasks safely.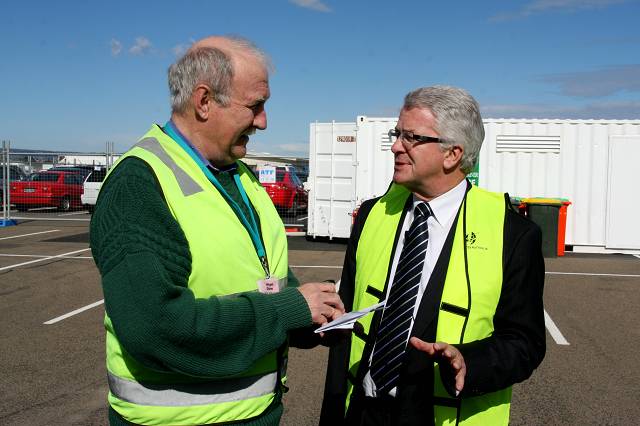 Nigel Daw (5DME)  & Greg Russell (CEO, Airservices Australia)
Building contractor Hansen Yuncken is expected to complete works by late 2011. A three-month commissioning period will follow bringing the new tower into service by early 2012.
5DME will be following the construction of the new tower and the decommissioning of the current tower.
Adelaide Tower History
Local Aviation Historian, Nigel Daw has provided some interesting photographs of the various control towers at Adelaide since the airport's construction back in the 1950's.
Newspaper Article

Reporting on construction

of a temporary tower circa 1954.

---

Temporary Control Tower 1955
Opposite: Jack Buckham Adelaide Tower 1955

---

Construction of permanent tower and DTB

circa 1957

Tower No. 2

circa 1957

---

Adelaide Tower, Landside 1967
Adelaide from the air, 1980

---

To veiw larger images please visit the 5DME Photo Gallery.

All the above Adelaide Tower historical photographs are provided courtesy of Nigel Daw.

Tower history information by Nigel Daw [play]
Find out more about the current Control Tower [view]
…Story by David Hales with sources from Airservices Australia, AAL & Hansen Yuncken
…Photos by David Wilkie