---
Airport Overview
Aldinga Airport is owned by Aldinga Aviation. The airfield is located south of Adelaide, South Australia in our Southern Vales wine region. Adelaide Biplaneswhich is owned and operated by the Smith family (Martyn, Gaylene & Bonnie) operate a flying school and also cater for scenic flights of the area. The staff make great coffee and there is an Alfresco area where customers and visitors can sit and watch the aircraft come and go while enjoying some great food.
(ED: The crew of 5DME are partial to the home-made warm chocolate brownies and ice cream.)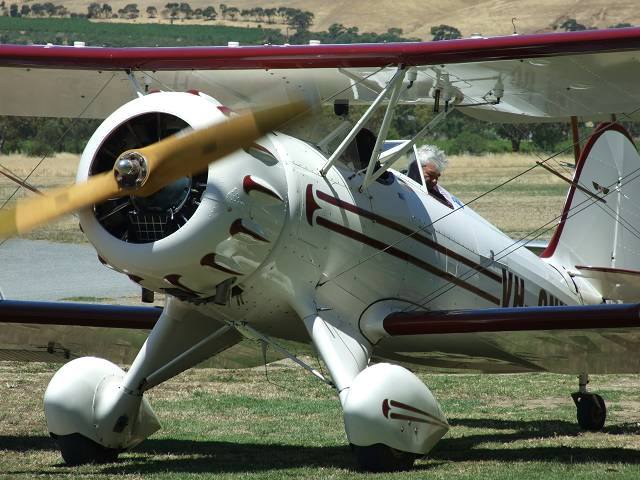 Photo: Martyn Smith and the WACO VH-ONY
Advertisement
Airfield Tenants
There are a couple of commercial operators that use the airport for transporting their crews to and from remote locations. Namely Lucas and Booth.
Aldinga Aero Club
Aldinga Airport is also home to the Aldinga Aero Club (AAC). AAC hold meetings on the first Sunday of the month. Public are welcomed warmly and can join the club should they wish.
Also, AAC take part in Angel Flight. This involves the transport of patients to and from medical facilities for treatment. Another yearly event is also held called Fun Flight (usually at Goolwa for operational reasons) for children with life-threatening illnesses to have a day where they can go flying with club members. All club members can get to take part in all activities, even if you are not a pilot yourself.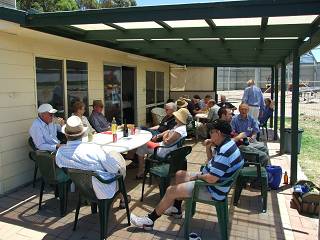 Visitors to Aldinga
Quite often visiting aircraft are seen at Aldinga. There have been helicopters from power-line inspection surveys stopping in for lunch, fly-ins from other clubs and interstate visitors.
Even if you are not interested in aircraft the Aldinga Airport makes a great place to visit, enjoy the scenery and have a day out.
Photo: Aldinga Aero Club BBQ
Physical Address:
Collville Road,
Aldinga 5173,
South Australia
Contact: 08 8556 5404 (Airfield Telephone)
Web: www.adelaidebiplanes.com.au
Email: flythedream@adelaidebiplanes.com.au