---
Regional Express
New Hangar Facility at YPAD
Thanks to REX staff for their assistance.
REX Hangar upgrade at YPAD. By David H.
Time Frame: 2008-2009
Location: Adelaide Airport (YPAD)
Visit on: June 23 2009
Photos by:
Early in June 2009 5DME visted the new REX Hangar facility at Adelaide Airport. This project is a significant upgrade for the REX maintenance section at YPAD. The REX maintenance facilty was previously located in the old Lloyd Aviation hangar. With the new building on line the REX maintenance team now have a state of the art building from which to conduct operations.
Anyone who frequents the airport will have seen the construction underway. Right from the foundations one could see the size increase for this new facility. Construction started in ernest in early 2008. Groundwork was done, area cleared and construction commenced.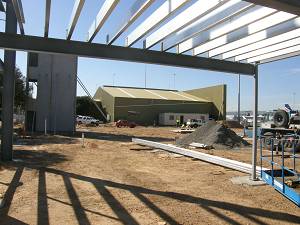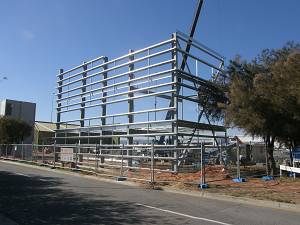 Open for Business
Opened for business on 11th September 2008 the new hangar is some 2565m2 in floor area. On average 10 aircraft a week pass through its doors with 26 staff running a 24 hours a day, 7 days a week operation.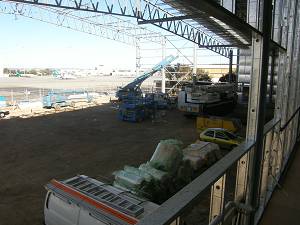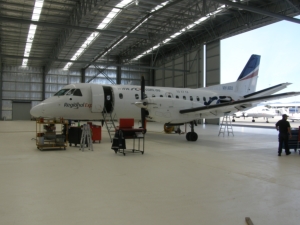 Modern Facility
The hangar is complete with parts area, extensive tools storage, scaffolds and equipment. One noticable change is the height. The old Lloyd building had a slot for the tail of aircraft to enter the hangar. The new facility has clearance to spare. Along with the extra floor space now accommodating up to three aircraft at a time, three gantries across the roof span allow for lifting of engines etc.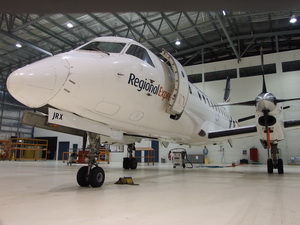 REX Hangar Facts
Area 2565m2
10 Aircraft per week
26 staff
24/7 operation
Opened in September 2008
Photo Opposite: SAAB VH-JRX in centre floor position
Maintenance Operations
As mentioned, the new hangar is capable of having three aircraft at a time on the floor and can provide the following aviation maintenance and check services to the fleet.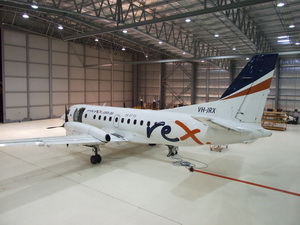 REX Operations
A Check
B Check
C Check
Engine Changes
Prop Changes
Line Maintenance Rectification
Medium Maintenance Checks
Photo Opposite: SAAB VH-JRX in centre floor position
Investment in Aviation
As enthusiasts we have seen things come and go over the years. It's great to see investment in aviation facilities at Adelaide. This is good for the industry and for our fellow enthusiasts.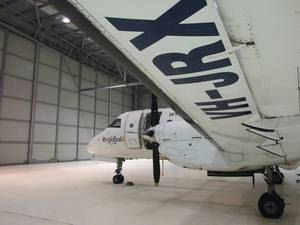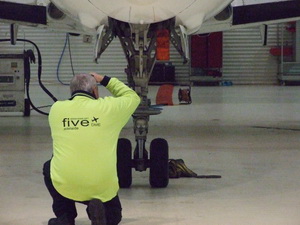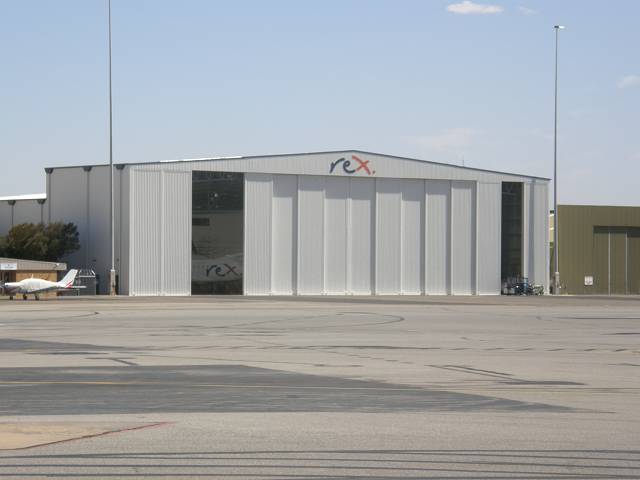 Credits for this article:
5DME would like to thank REX for the tour and opportunity to photograph for our readers. We found the new hangar very modern, well appointed and interesting. The staff were helpful and provided various information for this story.
Technical information provided by REX (Regional Express) Staff.
Photos for this page were contributed by: Rob L. Nigel Daw & David H.