---
LOCATION: Cairns/Adelaide
Airfield: Cairns/Adelaide
Time Frame: September 2008-2009
VH-EWP Fokker F27 500 Arrives at YPAD for refit.
The Navy Fokker Laser Airborne Depth Sounder (LADS) arrived in Adelaide 12 September 2009. It is to undergo a refit with it's current equipment compliment to go into the new Dash 8 VH-LCL. The Fokker will be here for some time, at least till Friday 18th. We will keep you up-to-date as information is received. For those that would like to see the aircraft flying, it is going out on Monday morning around 0900 and Tuesday around 1400.
About LADS Fokker F-27
The Navy Hydrographic Unit operates a Fokker F27 as an Airborne Laser Depth Sounder. The aircraft is used to map the ocean floor. Using a high powered, pulsed LASER the aircraft scans swathes of the ocean floor more rapidly than a ship performing the same task.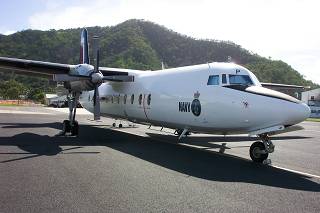 Picture: On Tarmac at Cairns
The LADS F27 is a specially fitted out aircraft. Complete with LASER, Data Logging, Cooling Units and Crew Facilities. The aircraft has been extensively modified to incorporate bay doors under the fuselage, additional fuel tanks, precise navigation systems, and a stabilised platform for the laser.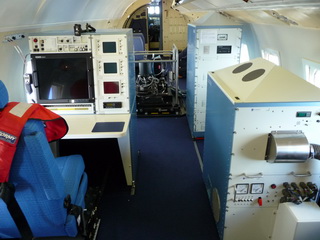 Picture: Inside LADS
The aircraft is piloted by civillian pilots and the electronic equipment is operated by Navy personel. Modifications to the aircraft include extra fuel tanks. The flight time per sortie can be up to 7 1/2 hours.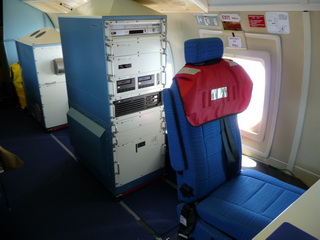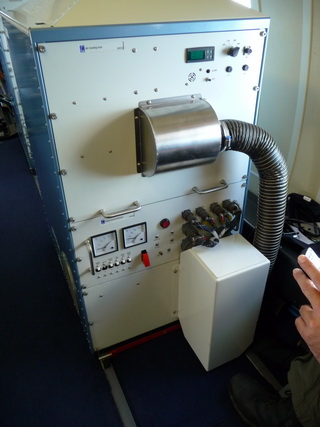 Data Logging and air cooling unit.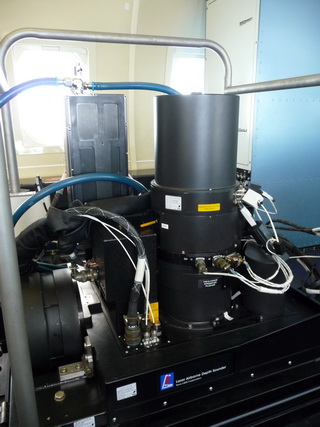 Laser Platform
UPGRADE
The equipment was recently upgraded (2008). The new system has improved performance and operational requirements over the old system.
Specs for the new system are:
240m laser swathe  (at a 5 x 5m grid pattern)
Variable grid pattern of 5x5m, 4×4, 3×3, 2x2m (depending on what is being investigated)
990 soundings per second (compared to 168 per second on the old system)
49800 soundings per square km
Variable sounding height of aircraft from 1200ft to 2000ft
Sounding speed 175 kts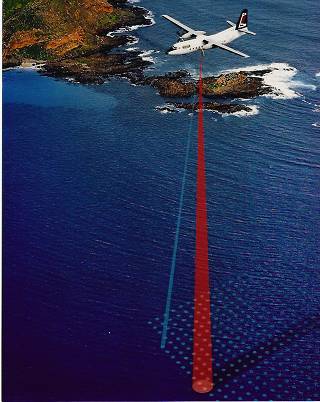 How it works
Fixed Infrared beam provides precise height information. Green beam scans ocean floor up to 50 metres deep.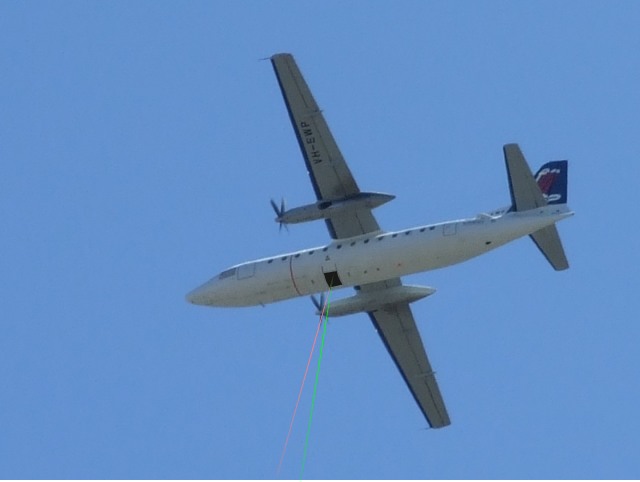 Simulated LASER Scanning
Red Laser is fixed vertically/stationary to measure height.
Green Laser scans a 240m swathe maping the ocean floor.
Overall Specification
| | | |
| --- | --- | --- |
| Aircraft | | Fokker F27-500 'Friendship' |
| Crew | | 2 pilots (civilian) , 2 survey systems operators (Navy) |
| Aircraft take off weight | | 20 tonnes |
| Aircraft transit speed | | 220 knots |
| Survey speed | | 175 knots/295 Feet Per Second/90M Per Second   (145 knots old system) |
| Operating height | | Approx 360-600 metres above the sea surface (1200-2000 feet) |
| Depth Range | | 0 to 50 metres |
| Sounding pattern | | 240 metres wide, 10 metres nominal spacing between soundings |
| Navigation | | using GPS satellite navigation (Military Precise Code) |
| Sortie duration | | up to 7½ hours |
| Personnel (Navy) | | 2 Hydrographic Survey Officers, 5 Sailors (Hydrographic Specialisation) |
| Personnel (Contract) | | Supported by TENIX LADS Corp with 9 contractors including 3 pilots and 2 aircraft engineers |
| Home Base | | Cairns, however the entire Flight is deployable and has been based out of Mackay, Darwin and Broome for up to 10 weeks |
Links to other VH-EWP and LADS related items:
Navy – Fondness for Fokkers
http://www.defence.gov.au/news/NAVYNEWS/editions/4903/feature/feature02.htm
Navy – Hydrographic Service
Navy – Hydrographic Survey
http://www.navy.gov.au/HMAS_Cairns#Fokker_F27-500_Laser_Airborne_Depth_Sounder_.28LADS.29
Item by David H.
Information courtesy of LADS.
Photos by LADS Staff & David H.