---
Sad Day for Australian Aviation – Fokker F27 Sold as Parts
The Laser Airborne Depth Sounder was the last Fokker F27 to grace Australian skies. Registered as VH-EWP it was permanently removed from the register on 14th April 2011 and has been sold for parts.
The aircraft had a significant run with theAustralian Navy's Hydrographic Unit until replaced by a Dash 8 in 2009. Fugro then took control of the F27 and the aircraft performed more survey missions overseas.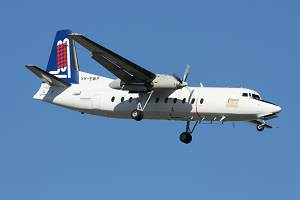 Still powered by Rolls Royce Darts the aircraft was in top condition inside and out. Unfortunately, more than likely due to cost of operation the aircraft has been retired and sold to be parted out. A terrible shame give the mint-like condition of the plane (the Navy really looked after it) and to the number of airframe hours left to fly. It was only about half way through its useful life.
Late in March 2011 it was ferried to Opa Locka.
There are not many F27s around these days and in such top condition. Especially in the southern hemisphere, this was the only one. It would have been a coup for the aviation enthusiast community if one of the Australian Aviation Museums or the Navy could have snapped it up and perhaps kept it flying or at the least, on display somewhere. There are a lot less significant aircraft and in worse condition that have been saved. This one still can fly although we suspect not for long.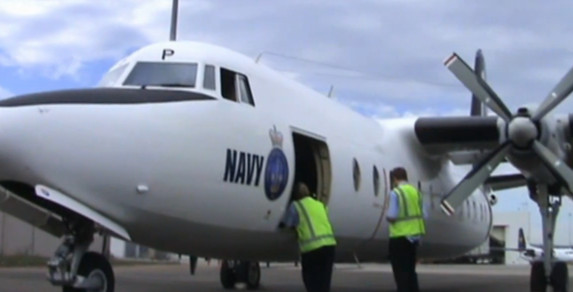 See gallery for more VH-EWP videos.
SPECIAL NOTE: Some concerned enthusiasts are investigating if the aircraft can be saved. We will keep you up to date should anything eventuate.
Charles has sent through a link to a video he produced of the last sortie of VH-EWP over the French Carribean. Here is his video:
Thanks Charles, great footage.
Links to videos on YouTube relating to this aircraft:
http://youtu.be/Ccsp3mfxYsE Departing McKay
http://youtu.be/Ccsp3mfxYsE Approach Cairns. Land rwy 33
http://youtu.be/Ccsp3mfxYsE Take off from Cairns
http://youtu.be/FlOoMGAsL5s Martinique Arrival