---
HARS C-47B Adelaide Visit 1 & 2 Aug 2009.
LOCATION: COBHAM (National Jet)
Airfield: Adelaide
Time Frame: August 2009
On Saturday 1st August 2009 the HARS DC-3 visited for an overnight at Adelaide Airport. The aircraft was on an excursion to Kalgoorlie WA  from Wollongong via Adelaide and Ceduna.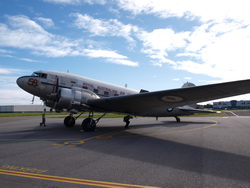 This aircraft (A65-94) is the longest serving C-47B of the RAAF. Delivered in May 1945. Serial A65-94 served in 38, 36 & 34 Squadrons. This was a VIP aircraft in 34 Squadron and was used to transport various visiting dignitaries. HARS have a fact sheet available on this aircraft. Please visit their web site for further information.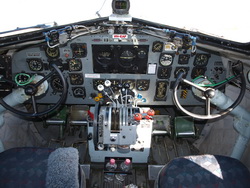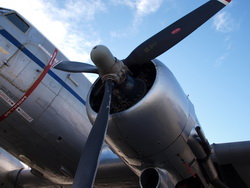 Stats:
Into service with RAAF 1945
Decommissioned 2000
14,600 hours and 55 years old (2000)
Longest serving C-47B
Aquired by HARS in July 2000
Restored and registered VH-EAF
First HARS excursion December 2000
5DME have taken a substantial photo collection during this visit. We are also in the process of post-producing video footage and inteviewing. We will compile a page of HARS visits to Adelaide and make it available to view. Please call again to follow our progress.
The 14 passengers and crew departed Adelaide around 0745 (scheduled) for Ceduna then on to Kalgoorlie WA.
5DME would like to thank HARS for their cooperation during the Adelaide visit. Also, we would like to acknowledge the assistance of Cobham (National Jet) and Adelaide Airport Limited.
See more at www.hars.org.au
Story by David H.