---
CFS Aerial Fire Fighting SA.
Pilots: Keith Gill & Bill Neckels
Airfield: Brukunga CFS Base
Time Frame: 8th January 2010
A special thanks to:
CFS Media & Erickson Air Crane for their assistance with this story.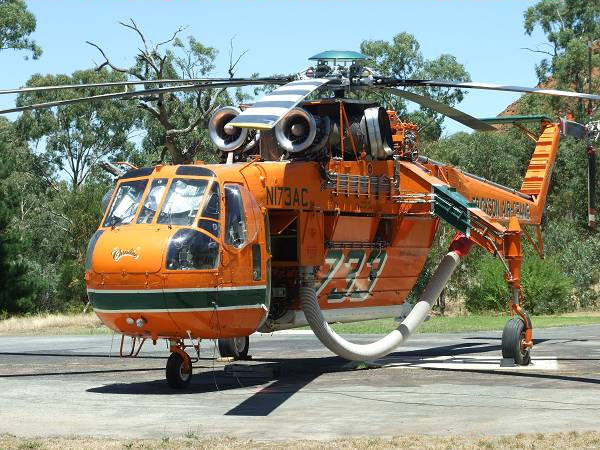 Christine (733) on the helipad, Brukunga
This huge machine is amazing when you first see it close up. Coming around the corner to the helipad reveals this nemesis for the first time. It's a bit of a shock as it is much bigger than it appears on our local news media/TV. Immediately jumping out the car with cameras in hand, the 5DME crew were assisted by the pilots to get some great shots for our gallery.
Just talking to the pilots was of great interest in itself. Information and stories about the helicopter and the job overall were most interesting. From pre-flight checks, deployment, fill methods and bombing fires the pilots were a great source of information. The flight time of most of the Air Crane pilots exceeds 14.500 hours and the experience not only individually but between them all must be enormous.
Keith and Bill (pilots) explained how they prepare for quick deployment by performing checks in the mornings around their pre-flight examinations. This allows and abbreviated check should the aircraft be called to a fire. From the time of call-out to being airborne is 15 minutes.
Keith and Bill also informed us that modifications have been made over the years to streamline operations and enhance the helicopter. For instance the Sea Snorkel that is used to fill the tank with sea water, was added to reduce corrosion damage to the helicopter by sea spray. When hovering over the ocean, filling the tank with the Pond Snorkel, sea spray may be ingested into the turbines and can also cause excessive corrosion to the airframe and components. This has been reduced by the spray trailing behind the helicopter with the Sea Snorkel, as filling is performed whilst in forward motion at approximately 50kph.
Aircraft Specification
Length
21.41M Fuselage
Height
5.67M
MTOW (Maximum Take Off Weight)
19 Tonnes
Water/Retardant Capacity
10,000L (reduced to 7,500L for heat / altitude)
Engines
2 x Pratt & Whitney JFTD12-4A Turboshaft Engines. 4,500 SHP each.
Fuel Type
JET-A1 (Kerosene)
Fuel Consumption
2,080L per hour when bombing.
Rotor Blades/Diameter
6 Blades / 21.95M
Rotor Disc Area
378.1M2
Fill Methods
Sea Snorkel (aircraft in motion) and Pond Snorkel (aircraft stationary).

Listen to interview for details.

Fill Times
40secs to 60secs depending on water conditions & fill method.
Delivery Volumes
From 250L (multi drop) to 7,500L (one drop)
Delivery Speed
0 knots upwards. 50 knots typical.
Transit Speed (To<>From Water to Fire)
Approx. 100knots
Crew
2 (pilot, co-pilot), Room for one rear-facing observer.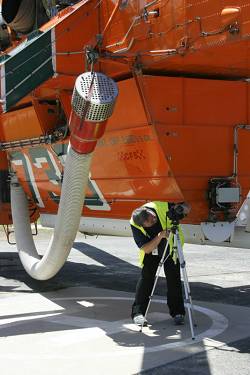 Air Crane Roles
The Air Crane is best used as a first attack asset although it can perform many roles in the fire fighting process. This can include but is not limited to Property Protection and assisting ground crews during a fire. As a first attack asset the Air Crane can be dispatched to a fire in the early stages. This means the fire could be extinguished without the need for further resources.
Deployable Asset
When required in other states to support fire fighting efforts the helicopter and crew are readily deployable and versatile. Christine (The SA based Air Crane) was dispatched to the Victorian bushfires in early 2009. The pilots are familiar with the various states as they have all worked at various times in those areas.
Locally, there is a fuel tanker that can be deployed with the helicopter to various locations. There is also a team of technical personnel and several containers of equipment.
More Information
Rather than provide extensive documentation here, it would be better for you to hear the information from the pilots. The following 14 minute interview covers many interesting points. The interview is by Nigel Daw from 5DME talking to Air Crane Pilots Keith Gill and Bill Neckels at the CFS Base on the 8th January 2010.
Interview
Interesting Links
http://www.fire-brigade.asn.au/operations/aircraft.asp#602
http://www.ericksonaircrane.com/
Credits
SA Country Fire Service (CFS Media)
Air Crane Pilots: Keith Gill & Bill Neckels
Story & Audio Post Production: David H.
Photos: David H & David Wilkie.
Interview conducted by David Hales (fiveDME) & Keith Gill (Erickson).