---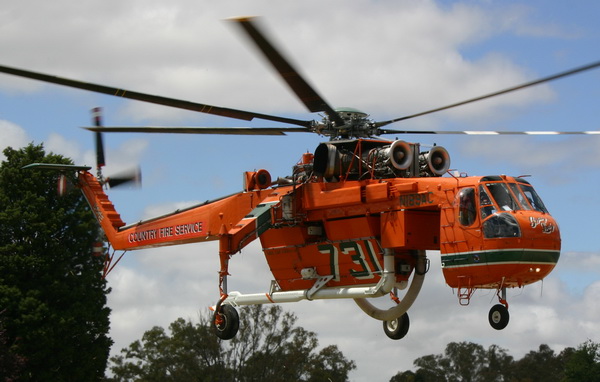 Photo: Gypsy Lady,  at Mt Crawford.
We are always delighted to see the Erickson Air-Crane visit Adelaide and to catch up with the crew. This year Gypsy Lady will be part of the combined CFS aerial firefighting team. 5DME attended the CFS Aerial Firefighting Demo at the Forrestry S.A. Headquarters, Mt Crawford. This year the fleet has been reconfigured slightly to include two new aircraft types to better meet the need of the CFS and South Australian fire fighting conditions.
A special demonstration event was planned to allow  CFS personnel, the media and key members of the community who assist to facilitate aerial fire fighting, to view the new aircraft and become reacquainted with the existing fleet of fixed and rotary wing aircraft including the Aircrane.
CFS personnel, SES & SACFS together with the Premier of SouthAustralia, The Hon Mike Rann MP participated in the event:
5DME would like to thank the CFS & Erickson Aircrane for allowing us to take part in this
exciting event.
See a full round-up HERE (including fleet list).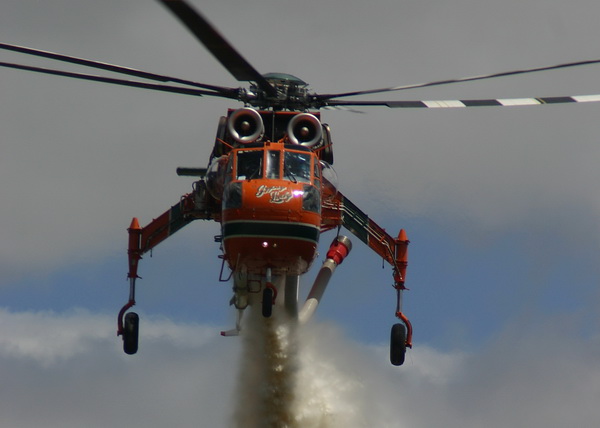 Photo: Gypsy Lady,  dumping water at Media Event