CONSTRUCTION TAKES OFF ON ATURA HOTEL AT ADELAIDE AIRPORT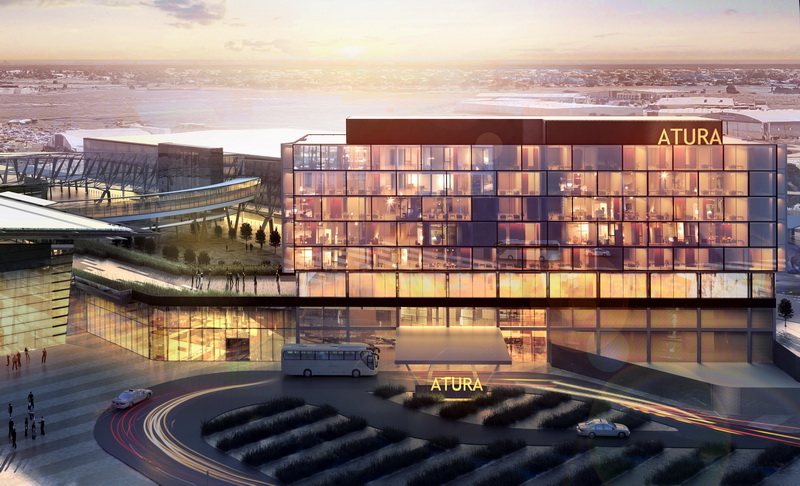 ---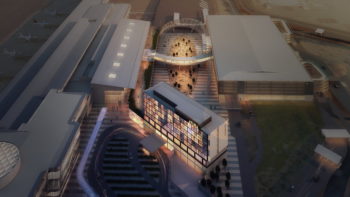 Construction has started on the new $50 million, 165-room Atura Hotel at Adelaide Airport. Premier entertainment, hospitality and leisure company, Event Hospitality & Entertainment Ltd (EVENT), will develop and operate Atura Hotels, a new seven-storey design-driven hotel directly adjacent the domestic and international terminal.
"We are thrilled to deliver Atura Hotels to South Australia," said Jane Hastings, Chief Executive Officer of Event Hospitality & Entertainment, "Atura will provide the 8 million passengers flying into Adelaide each year the opportunity to experience the Atura philosophy of value driven urban design, quality food and beverage, and great local hospitality."
Anticipated to launch in the December 2018 quarter, the hotel is being developed under EVENT's multi award-winning Atura brand and will feature a restaurant and bar, a business centre, flexible function and meeting spaces plus a port-cochere for guest drop off and collection.
Urban, industrial and design-inspired, Atura's signature free-flowing communal spaces will be a key design feature at the Adelaide Airport hotel; the restaurant, bar, lobby and general public spaces will integrate seamlessly with the broader airport terminal and can be accessible by all travellers, not just hotel guests.  A walkway will directly link the hotel with the airport's Level 2 domestic and international check-in area.
It is estimated 350 construction and related jobs will be created during the construction works. Under the direction of its experienced local team in Adelaide, national construction group Built is appointed as the major contractor on the project having delivered EVENT's first Atura Hotel in Blacktown and QT Hotels and Resorts across Australia.
Adelaide Airport Managing Director, Mark Young, said: "The Atura Hotel will be a focal point of our long term vision to create an easy, seamless connection between our aeronautical activities and our planned Airport Business District.
"More than 8 million people fly in and out of Adelaide Airport each year, and many of our customers have indicated they would welcome the convenience of an airport hotel to enable catching early morning flights after meetings or conferences.
"There are more than 8,700 people directly employed on the airport and many business people fly to Adelaide to conduct business solely at the airport.  We expect demand to grow as passenger numbers continue to increase, and we develop our Airport Business District infrastructure and expand our terminal facilities.
"We believe the Atura Hotel offers a real point of difference to the airport precinct.  It's great to see construction underway and we look forward to welcoming the first customers late next year."
Premier of South Australia, Jay Weatherill, said: "The construction of this hotel is further evidence that South Australia is an attractive investment destination, contrary to what others might suggest.
"Adelaide Airport is the nation's fastest growing international airport with the recent additions of airlines such as Qatar Airlines, China Southern Airlines and Fiji Airways and I'm pleased to welcome Atura Hotel today."
Launched in late 2013 with the opening of Atura Blacktown in Sydney, the brand delivers a fresh take on the hotel experience fusing edgy design, high-energy public areas and the latest technology.
The force behind some of Australia's most iconic event and hospitality brands, EVENT's enviable portfolio includes luxury QT Hotels and Resorts, Rydges Hotels and Resorts, Art Series Hotels, Thredbo Resort and Event cinema group.
Ends
About Atura Hotels:
Urban, industrial and art-inspired, Atura Hotels are where modern business and leisure travellers escape the predictable to embrace a new style of travel. This fresh take on the mid-market travel experience fuses dynamic communal spaces, hip styling and the latest technology at surprisingly affordable prices ensuring guests feel connected and energised.  Expect free Wi Fi and a host of other benefits.  Engagement with surrounding communities and active support of the local music & art scene are fundamental to the Atura brand philosophy.
The Atura Hotels concept was curated by the same collaborators behind the company's multi-award winning designer QT Hotels and Resorts brand.
The multi-award winning hotel brand boasts three properties in its current portfolio including Atura Blacktown, Atura Albury which officially opened in January 2015 and Atura Dandenong which opened in April 2015. Further expansion will see Atura Adelaide Airport open late-2018.
www.aturahotels.com
About Event Hospitality and Entertainment Limited:
Event Hospitality & Entertainment (EVT) is Australia's premier entertainment, hospitality and leisure company. Event has proud and historic origins dating back to 1910 and currently operates within the following business segments:
•             Entertainment – Event Cinemas (Australia, New Zealand & Fiji), Greater Union, Birch Carroll & Coyle Moonlight Cinemas, State Theatre Sydney and Cinestar (Germany)
•             Hospitality and Leisure – QT Hotels & Resorts, Rydges Hotels, Atura Hotels, Art Series Hotels, Eventhouse Hotels and Thredbo Alpine Village
•             Entertainment Technology – Edge Digital & Technology
•             Property and Other Investments
Event has a portfolio of diversified businesses and a history of solid financial performance. Event has attractive add-on and growth opportunities with strong management and supportive shareholders. Event was listed on the Australian Securities Exchange (ASX) in 1962 and currently has around 5,000 shareholders. Event trades under the ASX code of EVT.
About Adelaide Airport Limited:
Adelaide Airport serves close to 8 million domestic and international passengers annually with efficient, world-class services connecting with Asia Pacific and the Middle East.  It is the prime gateway to South Australia and just 6km from the city CBD.
The airport's state-of-the-art terminal provides a complete customer experience with its highly flexible check-in and gate facilities, vibrant retail and dining precinct, and free Wi-Fi access.
Adelaide Airport has recently announced a 30-year Vision that will include an Airport Business District – a globally connected, next generation hub, with designated industry clusters – a new hotel and expansion of the main terminal.