China Southern to fly into Adelaide 3 times a week
---
News releases – Jay Weatherill
The State Government says it has reached an in principle deal with China Southern Airlines for direct flights between Adelaide and Guangzhou, to begin as early as December this year.

This will be the first direct flights to be established from mainland China to Adelaide – Cathay Pacific currently operates flights to Hong Kong – and the second major airline to commence international flights to Adelaide in 2016.

Three direct flights per week from mainland China to Adelaide would create more than 135 local jobs, and have flow-on benefits for our hotels, our restaurants and tourism operators across the State.

The final agreement is expected to be signed between the State Government and China Southern in Guangzhou later this week.

Background

China Southern is the world's third largest airline based on passenger movement, operating more than 680 domestic and international aircraft with approximately 260 international flights every day to 72 destinations around the world.

In April, the State Government signed a Memorandum of Understanding with China Southern in Guangzhou to promote tourism between South Australia and China to promote each others markets. Footage of Premier Weatherill and Tourism Minister Leon Bignell at the signing is available here.

With the addition of China Southern, four new international routes have begun flying out of Adelaide since 2011, with international seat numbers increasing by 66 per cent.

In the 12 months to March 2016, China was the state's fourth largest tourism market (34,000 visitors) – a five-fold increase from a decade ago.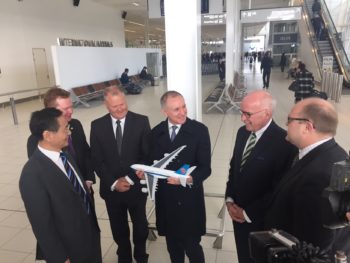 Quotes attributable to Premier Jay Weatherill
Having a direct flight from mainland China will create jobs that extend well beyond Adelaide Airport – helping our tourism and hospitality sectors to take advantage of this growing market.
We are expecting that the agreement to establish direct flights between Adelaide and Guangzhou will be signed in the coming days – and that flights would begin in December this year.
Our partner Adelaide Airport Limited has been instrumental in our discussions with China Southern, and we are grateful for their commitment to working with us to grow the number of international services coming into Adelaide.
Tourism is one of South Australia's key economic drivers, which is why the State Government committed another $35 million over two years in the 2016/17 State Budget – this is in addition to the $35 million committed over two years in last year's Budget.
The recent introduction of daily flights from Qatar Airways into Adelaide has also opened connections to more than 140 destinations including 25 European cities, with Qatar flights estimated to create more than 220 jobs across the state.
Quote attributable to Adelaide Airport General Manager Mark Young
Our partnership approach with Government is critical to working with our airline partners and we believe that together with the State Government we have developed a strong relationship with China Southern.
Quotes attributable to Ian Horne, Chief Executive, Australian Hotels Association SA
A successful completion of arrangements with China Southern will immediately elevate and increase confidence in Adelaide as a viable and appealing destination to invest in terms of attracting the next generation of International style accommodation.
Every international style hotel creates many construction jobs but importantly leaves a legacy of many new permanent positions after completion.
Access to China is the next goal is confirming Adelaide as a legitimate international visitor destination.