---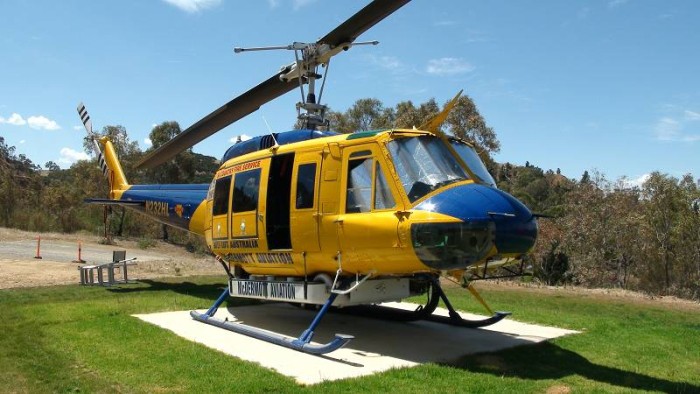 The Bell 205 helicopter is employed as a fire bomber during the summer season in South Australia. The aircraft are supplied be McDermott Aviation / Heli-Lift Australia and are based a Brukunga in the Adelaide Hills for the duration of the bush fire season.
The 205's form one part of an aerial fire fighting arsenal which includes fixed wing and rotary wing aircraft. During a fire situation they are easily deployed and can draw water from almost any accessible source via a snorkel attached to the belly tank.
5DME interviewed Kevin McCormick on Sunday 22nd January 2012. Kevin is a great source of information not only on the helicopter itself but the role it plays in aerial fire fighting.
The following video is an interview and walk-around with 205 pilot, Kevin McCormick.
Bell 205 Specification Information
Engine Type (Turbine)
Fuel consumption Approx. 350 litres per hour (Approx. 1.5 – 2 hours on scene)
Horsepower at Transmission 1250 (de-rated for transmission & driveline)
Speed 195kph
Water Tank 1200 Litres (Plus retardant injection system)
Snorkel Fill Rate 30 seconds
Pump Kawak Electric/Hydraulic (Slow Load or Soft Start System)
Gross Internal Weight 10,200lbs (4,626kg)
Gross External Weight 10.500lbs (4,762kg)
Gross Fire Bombing Weight 9500lbs (4,309kg)
Passenger capacity 14, plus pilot
Cockpit instrumentation – Analogue (no glass)
Interesting Information
The Kawak pump is a slow load or slow start system. This avoids shock loading the aircraft's generator.
The pilot can select any combination of the three drop tank doors for different fire fighting requirements, such as fire type, air speed and terrain.
Only one pilot occupies the helicopter during fire bombing sorties. No passengers are carried.
The pilot fly's the helicopter from the left seat for fire bombing and the right seat when carrying passengers.
Centre of gravity moves backwards when dropping water.
In the video interview, Kevin referred to the cockpit instrumentation as "similar" to old steam gauges. We thought for the sake of clarity to inform readers that the gauges are not actually steam powered 😉
Summary
The Bell 205's play a major role in South Australia's Country Fire Service aerial fire fighting contingent and are a valuable resource that the state can not afford to do without should a bush fire threaten life and property.
5DME are grateful for the co-operation of Kevin McCormick, McDermott Aviation/Heli-Lift Australia and the CFS in the creation of this article.
Interesting Links
http://www.fire-brigade.asn.au/operations/aircraft.asp#602
http://www.ericksonaircrane.com/
Credits
SA Country Fire Service (CFS Media)
Airservices Australia: David Smith
Story & Audio Post Production: David H.
Photos: David H & David Wilkie.