Barossa Airshow 2015 UPDATE
---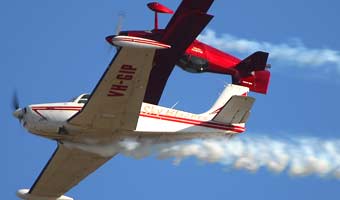 There will be all the amazing things you have come to expect at the Barossa Airshow and more that will be all on display for 2015.
RAAF Roulettes Air Force Aerial Display Team
Chris Sperou and Warren Stewart – Sky Blazers
All types of aircraft will be flying
The models will be on display and flying
You can go for a helicopter ride
Stalls and side-shows on the ground
Hands-on displays
Here's a bit of Chris Spreou to whet your appetite. This was taken at Oysterfest and has pilot's eye view vision.
Chris Sperou Oysterfest 14 v3 Pilot View from Video Magic Productions on Vimeo.
As February goes on fiveDME will bring you more information and videos about this up-coming event. So keep watching!