---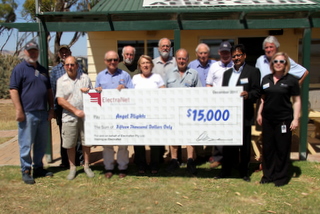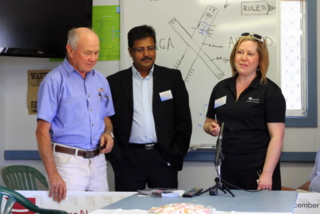 Today, 6th December 2011 at the Aldinga Aero Club, Surya & Rachael from ElectraNet presented a cheque for $15,000 to the Aero Club to go towards the fuel costs of the Angel Flight missions that the pilots of the Aero Club operate.  This will be the 5th year that ElectraNet has supported the Aldinga Aero Club since the partnership began in 2007.  The Aldinga Aero Club has completed around 25 Angel Flights in the last year.
Aldinga Aero Club's Vice President, Terry Cahalan said the club has completed over 100 Angel Flight sorties since accepting the role 2007. The club is thankful to ElectraNet for its continuing support of such a worthy cause.
Club Captain, Owen Crees said the sponsorship funds circumvent the need for the Angel Flight organisation having to fund fuel costs.
Photos: (Top Right) Club Members with Surya & Rachael from ElectraNet. (Top Left) Terry, Surya & Rachael at the AAC Presentation.