---
CFS Aerial Fire Fighting SA.
Pilots: Sam McCabe
Airfield: Woodside
Time Frame: 8th January 2010
A special thanks to:
CFS Media & Aerotech for their assistance with this story.
Air Tractors, Helicopters and Fire Spotters.
Our visit to Woodside revealed several Air Tractors and a few helicopters. After a stroll down the flight line we ended up at the pilot's standby area and had a chance to talk to Sam McCabe of AMR.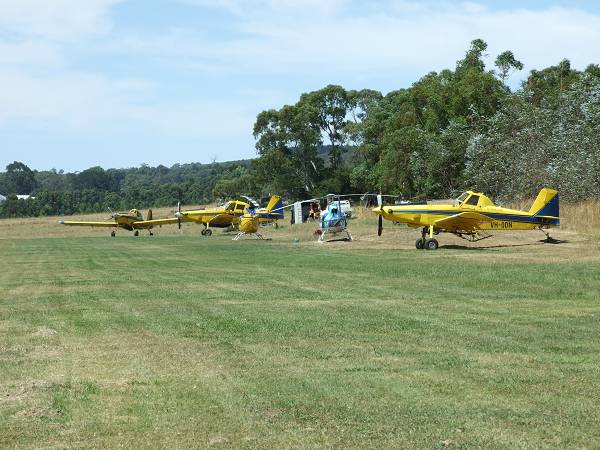 Air Tractors
Source: Sam McCabe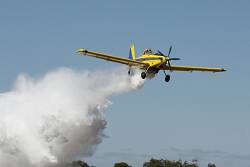 Air Tractors are a small turbo prop powered aircraft capable of carrying 2,450L to 3,200L of water or retardant depending on the model. They are fast, nimble and able to depart the base in almost all weather conditions. Sam informed us they have never, not been able to take off.
Cruise: 160 knots.
Dispatch: 3 Mins to wheels off.
Area: Anywhere in Mount Lofty Ranges in 10 minutes. Longer for more distant locations.
5 hours fuel.
Drop Capactity: 2,450L (AT-602) or 3,200L (AT-802)
Reload 2 minutes, Water/Retardant/Gel.
Effectiveness
An example of Air Tractor effectiveness was a recent small fire in Hahndorf. The Air Tractors were dispatched immediately and had the fire out within minutes. No further resources were required to fight the fire. Other than observation and mopping up, ground crews were left free to attend other incedents if required. Also, being the fire was extinguished quickly, damage was reduced to a minimum.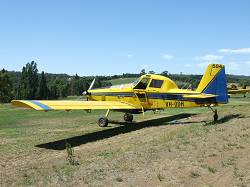 Response Times / Reload capabilities
To keep response times to a minimum there are several designated refueling/refilling airstrips.
Mt Crawford
Cherry Gardens
Goolwa
Murray Bridge
Mt Compass
Gawler
Virginia
Parafield
Second Valley
Up to 200 airstrips state-wide
Coordination
Fixed wing aircraft are controlled via the CFS from the State Air Desk in Adelaide. They are most effective for initial attack and ground Fire Fighter support. The CFS fleet can be airborne in as little as 3 minutes and is very flexible as to job taskings and environments.
There are several "Spotter" aircraft, namely Cessnas and Helicopters used in conjunction with Fire Bombers and Ground Crews to help coordinate fire fighting strategies. Fire Fighting aircraft can help to contain fires early and assist ground crews in their efforts by providing aerial support.
SA Fixed Wing Fleet
6 x AT-802 Air Tractors
2 x AT-602 Air Tractors
1 x Cessna 337
2 x Cessna 182 (One in South East & one at Port Lincoln)
Bombing Runs
The fixed wing aircraft are good for bombing the head of the fire as helicopters (with the exception of the Air Crane) may experience a lot of turbulence. In the case of heavy turbulence the smaller helicopters attack the flanks. Height is important as it is desirable for the retardant not to fall straight down. Speed is slowed to approximately 100 knots for the drop. When getting to the head of the fire visibility is the main problem.
Drops can be conducted from as low as 50FT. Conditions dictate altitude. Retardant can be dropped from higher altitudes due to its mud-like consistency. Visibility also plays a role in how the fire is appraoched.
Interesting Links
http://www.fire-brigade.asn.au/operations/aircraft.asp#602
http://www.ericksonaircrane.com/
Credits
SA Country Fire Service (CFS Media)
Woodside Contact: Sam McCabe
Air Tractor Video: NWS 9 Adelaide
Story & Audio Post Production: David H.
Photos: David H & David Wilkie.