---
ADELAIDE AIRPORT 56TH ANNIVERSARY 16 – 2 – 2011
The 16th February 2011 is the 56th anniversary of the opening of the Airport for airline services. Previously Parafield had been the main airport for the City of Adelaide.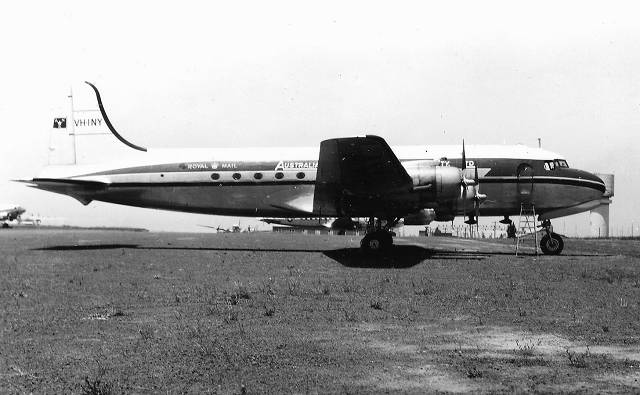 Photo: Jeff Atkinson via N K Daw'
At 6am on Wednesday 16 February 1955 the Australian National Airways (ANA) Douglas DC-4 Skymaster VH-INY 'Laxapana' touched down at Adelaide to become the first scheduled airline flight into the new airport. Piloted by Captain Brian McKenna and First Officer Cliff Shortland 'Laxapana' had just completed a 6.5 hour scheduled flight no. 215 from Perth. The Air Hostesses were Pat Cominie and Barbara Matthews.
'Laxapana' remained at Adelaide on the first morning for only sufficient time to refuel and embark passengers for Melbourne. ANA had the honour of landing the first scheduled flight by only a few minutes as a Trans Australia Airlines (TAA) Douglas DC-4 operating flight 513 from Perth touched down shortly thereafter.
A highlight of the opening day at Adelaide was the arrival of the new TAA Vickers Viscount VH-TVB 'Gregory Blaxland'. This was the first turbo-prop airliner to be placed into airline service in Australia. The Viscount took 1 hour 40 minutes to complete the flight from Melbourne.
Adelaide Airport has changed significantly in the last 56 years with the volume of passengers and flights showing no comparison.
1955 Daily Departures
T.A.A. – six flights totaling 250 seats
A.N.A. – five flights totaling 260 seats
Guinea Airways – seven flights totaling 154 seats
Total 18 flights with the total of 664 seats
2011
Daily RPT & Charter Flights
Alliance – 6 flights totaling 312 seats
Cobham – 2 flights totaling 220 seats
Qantas – 32 flights totaling 5860 seats
Qantaslink – 6 flights totaling 480 seats
Virgin Blue – 21 flights totaling 2340 seats
Jetstar – 8 flights totaling 1416 seats
Tiger – 5 flights totaling 885 seats
REX – 24 flights totaling 816 seats
Sharp – 4 flights totaling 76 seats
Total  108 daily flights with a total of 11,409 seats
International Flights (Weekly – in/out)
Singapore Airlines – 7 flights totaling 1960 seats
Cathay Pacific – 7 flights totaling 1960 seats
Malaysian – 4 flights totaling 1240 seats
Pacific Blue – 3 flights totaling 540 seats
Qantas – 3 flights totaling 840 seats
Air New Zealand – 6 flights totaling 912 seats
30 flights per week totaling 7452 seats
Story and information by Nigel Daw (NKD 15022011 V.1)