On This Day 31st August
---
This material is compiled from sources including the Office of Air Force History, the RAAF Museum and the Australian War Memorial.  The Office of Air Force History is not responsible for pre-1921 items.  Whilst every effort is made to confirm the accuracy of the entries, any discrepancies are solely the responsibility of the originator.
31 Aug  37 –  Albert Medal awarded for attempted rescue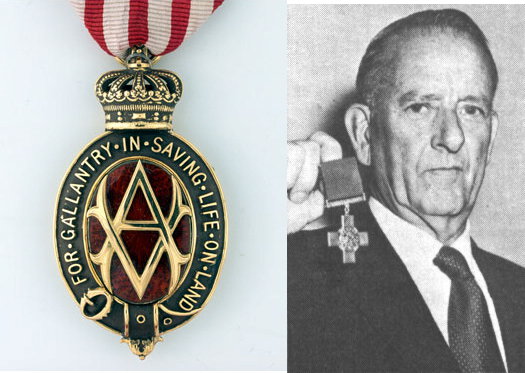 Albert Medal                                           McAloney with George Cross
On this day, a formation of three Demon aircraft flew from Laverton to Hamilton, in western Victoria, where they landed during the local Show. Shortly after 3.15 pm, the aircraft prepared to depart. As the second machine took off, the pilot attempted a climbing turn but stalled and crashed from a height of 200 feet. The fuel tank burst on impact and the Demon began burning fiercely. The observer in the aircraft still on the ground, AC1 W.S. McAloney, witnessed events and leapt to the rescue. Running into the flames, he attempted to extract the two crewmen before himself being dragged away with severe burns.   On 4 February 1938, McAloney was awarded the Albert Medal for Gallantry in Saving Life on Land –– an award unique in the annals of the RAAF.  He served on in the RAAF, retiring as a Wing Commander in December 1966. When the Albert Medal became obsolete in 1972, McAloney's award was converted to the George Cross.
Media reporting of Feb 38 here:  http://trove.nla.gov.au/ndp/del/article/17438931 and some other AWM history here:  http://cas.awm.gov.au/item/P04794.001/
31 Aug 44 –  Peak wartime strength reached
On this day, the RAAF first attained its highest strength during WW II of almost 182 000 personnel (162 846 males and 19 031 females). The Service stayed at this level for the next six months, and on 28 February 1945 still stood at 181 976 (163 336 males and 18 640 females). Among the males, 20 304 were officers and 143 032 were other ranks; 11 277 aircrew and 129 777 ground staff were serving in the South-West Pacific Area, including Australia, while 14 938 aircrew and 3499 ground staff were serving in other theatres, and the rest were missing or prisoners. Of the females, 495 were nursing sisters in the RAAF Nursing Service and 18 145 were members of the Women's Auxiliary Australian Air Force (including 629 officers).  The Air Force declined in size from this point and, by the Japanese surrender in August 1945, was down to 173 622.
  More on the WAAAF here:   http://trove.nla.gov.au/people/547356?c=people
31 Aug 45 – 7EFTS disbanded in Tasmania

7EFTS, 1941                                                             C-47s delivering Christmas mail to 7EFTS
On this day, No 7 Elementary Flying Training School (EFTS), located at Launceston's Western Junction airport, was disbanded.  The School, Tasmania's only WW II flying base, was established on 29 August 1940 and commenced  flying training with 11 Tiger Moths the following month.  A satellite field at Nile, seven and a half miles south of Western Junction, was completed and by the end of October 1944, 1801 trainees had passed through the unit and aircraft strength was approximately 60 Tiger Moths. The base was regularly visited by Airspeed Oxford aircraft from No 1 Operational Training Unit at Bairnsdale, Victoria as well as No 67 Squadron Ansons conducting anti-submarine patrols over Bass Strait and environs. During December 1944, training was suspended at Western Junction, but it was not until 28 March 1945 that flying ceased, and the aircraft were prepared for storage.
31 Aug 50 –  Transport pilot lost off Malaya
On this day, Pilot III (Flight Sergeant) G.J. McDonald of No 38 Squadron was lost when a Dakota transport from No 110 Squadron, RAF, crashed into the sea about 150 miles off the coast of Trengganu, Malaya.  He was copilot in the aircraft which took off from Changi airfield in Singapore (where No 38 Squadron had arrived in June to support British operations during the 'Emergency') at 4 am on a routine courier flight to Hong Kong.  When the Dakota failed to make a scheduled fuel stop at Saigon, a large-scale air search commenced. This produced no sightings, but about 4 am the next morning a naval launch picked up a British Army officer who had been a passenger on the aircraft and was the sole survivor from its crash. The search was called off at 6.30 pm on 1 September and that evening McDonald was classified as 'missing believed killed'.
RAF 110SQN history here:   http://www.raf.mod.uk/history/110squadron.cfm
Aircrew behaving inappropriately – an occasional series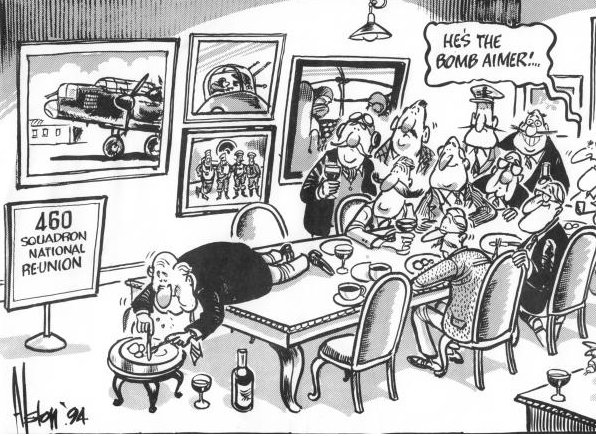 Shortly after CO 460 Squadron's arrival at Breighton in the UK, two British police constables called on him to devise some way of overcoming the disappearance of push bikes from outside the Black Swan ('Dirty Duck') and the Seven Sisters (the 'Seven [redacted]') at closing time, only to be picked up by the rightful owners outside the main gate into the station next morning.   After a long discussion, at which general agreement was reached that everything must be done to stop this wanton pilfering, and the Air Force bikes would be painted all white, the two constables were shown to the door, beside which their bikes had been stood.  But alas their journey had been in vain, both bikes had vanished!!
Courtesy Department of Defence