Adelaide Airport Limited (AAL) reported another 'step change' in international passengers in December
2013, with a record 90,000 international passengers following the commencement of Air Asia X's Kuala
Lumpur service and Jetstar's Auckland and Bali services. The record December result was up 24% from the
previous record set in July 2013.
Year to date international passengers increased by 23.7%, reflecting both an improvement in load factors
and a 13.8% increase in capacity.
Managing Director Mark Young said: "The commencement of Air Asia X and Jetstar this quarter is an
important achievement for Adelaide Airport, with the introduction of these carriers bringing both low cost
international travel to the Adelaide market and the option of a second carrier on several popular routes."
Domestic passengers grew 3.9% to 3.2 million for the year to date reflecting an improvement in average load
factors and capacity increases across the network, with an additional 86,000 (2.3%) seats in comparison
with the previous corresponding period. The Adelaide – Melbourne route provided the largest contribution to
growth, with the Darwin and Gold Coast routes also showing solid growth. Domestic growth is expected to
be stimulated in the second half following the upcoming commencement of Tigerair's Brisbane and Sydney
services in March 2014.
Regional passengers decreased by 7.6% on prior year primarily as a result of a reduction in resource
industry and related traffic.
The 5DME film crew were at Aldinga Aerodrome yesterday 22nd December 2013 for the annual Christmas Event. Santa arrived in the Waco Biplane and was greeted by nearly 100 children plus their parents, carers, friends and family.
Once again the aviation sector comes to gether to wish everyone a Merry Christmas and a Happy New Year. All the best for 2014.

Adelaide Airport Limited (AAL) has continued its strong international growth seen over the last two years, achieving a new record of 207,000 international passengers for the quarter ending September 2013, up 6.7% from the previous record set in March 2013.
International passengers increased by 26.1% for the quarter, reflecting both an improvement in load factors and a 13.7% increase in capacity following the commencement of Emirates and capacity increases from incumbent carriers over the last twelve months, including Singapore Airlines' increase from 10 services per week to 12 from July 2013. The improvement in load factors is particularly pleasing given the significant increase in capacity and relatively weak economic environment and demonstrates the strong demand for additional international services into Adelaide.
AAL's international growth has attracted interest from a number of new international carriers, with AirAsia X announcing the commencement of direct services from Adelaide to Kuala Lumpur, and Jetstar announcing the commencement of direct services to Auckland and Bali during the quarter.
Managing Director Mark Young said: "The international growth seen at Adelaide Airport continues to gain momentum as more and more carriers see the potential in the Adelaide market. We look forward to maintaining this growth as passengers take advantage of the improved connectivity available."
Domestic passengers grew 3.6% to 1.5 million reflecting an improvement in average load factors and capacity increases across the network, with an additional 50,000 (2.6%) seats in comparison with the previous corresponding period. The Adelaide – Melbourne route provided the largest contribution to growth with an additional 37,000 passengers (7.1%), while the Sydney, Brisbane and Perth routes declined slightly against the prior year.
Regional passengers decreased by 7.5% on prior year as a result of the weak economic conditions and reduction in mining traffic.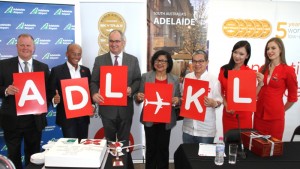 Today 31-10-13 AirAsia X BERHAD touched down in Adelaide marking the commencement of more affordable international air travel. There will be four flights per week and fares start from $199AUD..
Read the press release HERE.
Parafield Airport will again offer a Youth Flying Scholarship in 2014 for one person from the local northern Adelaide region wanting to train to become a commercial pilot.
Following the success of the inaugural scholarship in 2013, Parafield Airport Ltd (PAL) will offer a further scholarship, valued at $60,000, to anyone aged between 18 and 25 who is active or lives in the greater Salisbury catchment area, which surrounds the airport.
The scholarship is provided in conjunction with Flight Training Adelaide, Northern Futures and the City Of Salisbury.
Parafield Airport Ltd Managing Director Mark Young said the scholarship would cover all tuition fees and uniforms, and will equip the graduate with the skills necessary to seek employment as a pilot.
"We wanted to make a significant commitment to employment in the region and to aviation training," Mr Young said.
"Our inaugural winner, Bradley Conway, has already proven himself to be a worthy recipient of the 2013 Parafield Airport Youth Flying Scholarship, and is very close to completing his training.
"The successful scholarship recipient, on completion of the year-long training program, will be awarded with a Commercial Pilots Licence, which is an invaluable qualification for anyone looking to start a career in aviation."
As part of the application process, PAL is looking for someone with a demonstrated desire to fly and pursue an aviation career, a history of general excellence – both academic and in other fields – and strong written and verbal communication skills.
Applications close November 1, 2013.  Further details are available on line at www.parafieldairport.com.au .
The newest member to join the 5DME team is Lucianne van Gelder. Lucianne is a pilot and has been involved with aviation for some time. She is a member of  the Aldinga Aero Club and now will be one of our on screen presenters.
See a short hello message video from Lucianne: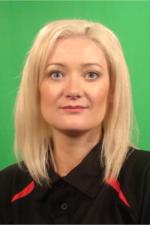 This week the 5DME team welcomes Lucianne van Gelder to our team. Lucianne will be taking up the role as one of our presenters in 5DME videos and we look forward to seeing her on-line.
Lucianne will be interviewing some of our guests in the new WORKING AIRPORT series that we are currently recording. Team Leader, David Hales says, "It will be great to have a break from in front of the camera and get back to producing and editing."
Lucianne is an aspiring pilot herself and is currently taking lessons at Adelaide Biplanes. She is on the Aldinga Aero Club Committee and has a great knowledge of aviation.
Viewers should see Lucianne in our videos very soon.
Tuesday 3 September, 2013
Adelaide Airport Limited (AAL) has welcomed today's announcement by Jetstar that it will fly three non-stop services a week between Adelaide and Auckland, starting December 16, 2013.
AAL Managing Director, Mark Young, said the new service would now provide travellers with a choice of airline between the two cities, creating greater accessibility and affordability for passengers. Air New Zealand currently services the route with six flights a week.
"For some time we've had the view that there were opportunities to create additional choice on this route, so we see today's announcement by Jetstar as a great result for Trans-Tasman travellers," Mr Young said.
"It creates new opportunities for South Australians heading to New Zealand, as well as boosting tourism in South Australia.
"Adelaide Airport has been Australia's fastest growing capital city airport for international services for the past couple of years, and these new flights will help to continue that trend."
Flights will operate every Monday, Wednesday and Saturday, arriving and departing Adelaide late afternoon. Jetstar will utilise A320 aircraft on the route.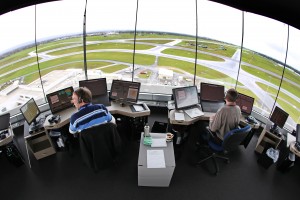 Today Airservices Australia held the official opening ceremony for the new control tower at Adelaide Airport. Special guests included the Deputy Prime Minister Anthony Albanese, Local MP Steve Georganis, Dr Warren Mundy from Airservices and Mark Young from Adelaide Airport.
New Release
Friday 23 August, 2013
ADELAIDE AIRPORT'S NEW STATE-OF-THE-ART CONTROL TOWER
Adelaide Airport Ltd (AAL) has welcomed the opening of a new state-of-the-art air traffic control tower this morning by Deputy Prime Minister, Anthony Albanese.
The $16.9 million Airservices Australia tower represents a generational change in air traffic control, moving from a paper-based system to electronic.
The 44-metre high tower, built by Hansen Yuncken, is more than twice the height of the old tower.
AAL Managing Director, Mark Young, said Airservices Australia and the airport had been collaborating on the project for several years.
"The new tower adds yet another layer of safety and efficiency for passengers travelling to and from Adelaide Airport," Mr Young said.
"Having a modern air traffic control facility matches our commitment to operate Australia's most modern airport.
"The vastly improved air traffic control system will also help meet demand as our domestic and international services continue to grow strongly.
"This is another reminder of how fast technology and the aviation industry at large changes, and is a reminder that we must keep investing ahead of the curve.
"Airports are essential to the Australian economy and contribute about $17.3 billion to the Gross Domestic Product. This shows why the efficient use of our airspace and airport infrastructure is so vital to ongoing growth."
The new air traffic control tower is 44 metres high, and was built with 2,000 cubic metres of concrete and 250 tonnes of reinforcement.  It replaces the existing tower that was built in 1983.