Video cameras supplied by: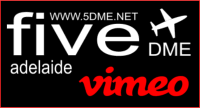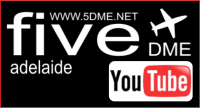 Adelaide Airport Facility
5DME had the priviledge to visit the Bureau of Meterology, Adelaide Airport Facility. We visited because most people do not understand the complexity and range of tasks the Bureau performs in its daily activities relating to aviation. 5DME follow the weather but even we learnt things we did not know. We would like to bring some of this information to you.
Not only do the Bureau staff take all the readings we are use-to, but they also take readings for CSIRO and Universities. There are experiments for long term rain analisys, wind profile measurements and more.
Being that the purpose of this facility is for aviation the main object is up-to-date, real-time weather. There is continuos monitoring of current conditions by the Bureau staff 24 hours a day, 365 days a year. Significant amounts of the data is updated once per second by automated computer systems.
Weather Observers monitor, correlate and make available the data in human readable form. Data is recorded from the many sensors and detection instruments on site. As well as current conditions, the Bureau compiles forecasts for the aviation sector and the general public.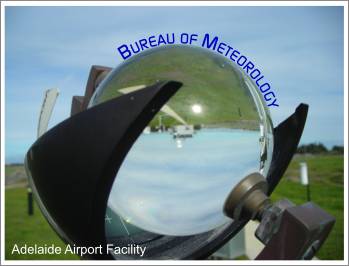 This device records the hours of sunshine each day.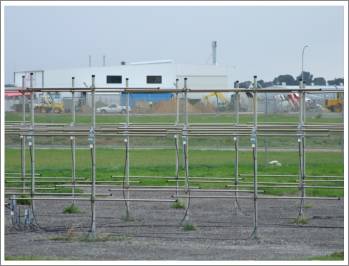 Wind Profiler
External Agency Sensors on Site
Assisting outside agencies.....
The device opposite is on the BOM site but is a university project. It is a Wind Profiler. It detects movement of particles in the the air and determines wind speed and direction at given heights.
It is an array of yagi antennas (for those techs) pointing vertically upward. These emit and receive radio signals.
5DME will provide more information as it comes to hand on this device.
Tracking the Weather
One of the ways weather data is collected is by a Weather Balloon.
The photo opposite shows a Weather Balloon being released from a specially designed enclosure. Release is automated. The radar unit in the background tracks a purpose built Radar Target which is attached to the balloon.
A Radiosonde which hangs about 40 metres below the Radar Target transmits data back to the receiving antenna and the station. Temperature, humidity and air pressure are measured.
Eventually the balloon reaches such a high altitude, it ruptures and falls back to earth. The staff tell 5DME that they do not recover many of the balloons that fall back to earth.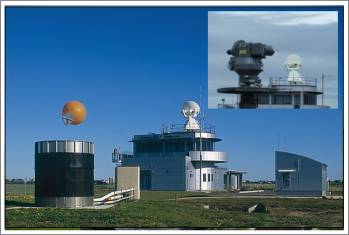 Weather Balloon release with Radar Tracking (background)
Inset: The device in the foreground is a Theodolite
(Still used to track balloons)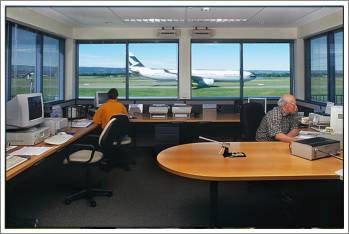 Staff monitor the various data readings on computers.
Inside the Facility
Inside the Bureau Facility the Weather Observers monitor and analyse the data being collected by the various sensors and instruments. The data is computerised and is fed to various sources at the airport and abroad.
Various incoming data is displayed on computer screens and readings like barometric pressure are displayed on dedicated devices.
The range of readings being recorded was amazing!
We even saw weather graphics and animations being produced for TV stations and print media.
Summary
When we visited the Bureau we did have some previous experience because of our personal interests. However, no matter how well you think you can be informed there is always more to learn. We found that many more tasks were performed by the staff than the average person would know. Most people think the professionals just look and observe weather they can see. This is not the case.
Some of the data that is recorded by the Bureau:

Wind Speed and Direction
Rain Fall (Precipitation)
Solar Radiation & Sunshine Hours
Ground Temperature (On surface and below)
Horizontal Visibility
Cloud Base Height
Humidity
Wind Chill Factors
Dew Point
Evaporation
Air Temperature (Minimum & Maximums)
Barometric Pressure

Weather Forecasting

Includes but is not limited to:

Taking readings and reporting those readings.
Weather data collection and interpretation.
Computer modelling for weather forecasts.
Reporting data (Forecasts).
The work performed by Bureau's Weather Observers is not limited to taking readings. Someone has to interpret and get the data into human readable form. As mentioned earlier they even prepare the graphics for some TV and print media publications which we see each day. The Bureau provides long term statistical data so we can learn and help predict changing weather patterns.
There is an extraordinary amount of skill and experience amongst Bureau staff. Among those we talked to on the day of our visit there was over 50 years of experience and this was only two of the contingent.
As for the aviation side.... Pilots require critical and accurate weather information that is as up-to-date as up-to-date can be. The Bureau provides this service relentlessly. Automated services provided include ATIS (Automatic Terminal Information Service) this is a computer generated voice weather information service. Pilots can dial up the service on their radios. It is kept up-to-date with local airport weather such as barometric pressure (to set Altimeters), wind direction and wind speed for take-off and landings.
As 5DME are interested in all parts of the aviation sector it was a priviledge to be able to visit and document the Bureau of Meteorology, Adelaide Airport Facility.
---
More technical data will be added to this page as it is received and transcribed but for now please visit www.bom.gov.au
You will find many more photos of the Bureau's Airport Facility in the Photo Galleries.
5DME would like to pass on our thanks to the staff of the Bureau of Meteorology, Adelaide Airport Facility.
---
Bureau of Meteorology Links
| | |
| --- | --- |
| Link | Description |
| | South Australian Weather Warnings BOM |
| | Adelaide Forecast BOM |
| | Latest Weather Observations for the Adelaide Area BOM |
| | Sellicks Radar BOM |
| | Buckland Park Radar BOM |
| | |
| Regional Offices | |
| | Ceduna Met Office BOM |
| | Mt Gambier Met Office BOM |
| | Woomera Met Office BOM |
| | Giles Met Office BOM |