Adelaide Biplanes Quiz Night Fund Raiser for Come Fly Inc
Hi all,
Now, we don't do too many of these, so please can you support us to raise funds for Come Fly Inc. The Fund has given out $9000 so far to help students learning to fly.
Everyone is welcome, aviation and general questions will be asked. Teams of 6 maximum, but if there is only a couple of you, let Jan or myself know and we will put you together in a team.
Let us have some great names for your teams. Cost….$5 per team member. There will also be a Silent Auction, a Raffle and we will be applying for a Liquor Licence.
Please let us have any of your ideas to raise money on the night, plus any offers of donated goods for the Silent Auction and Raffle are always gratefully accepted.
Ring now!
(08) 8556 5404
• What is the phonetic alphabet for ONY?
• What are the positions in a netball team?
• What is a group of kangaroos called?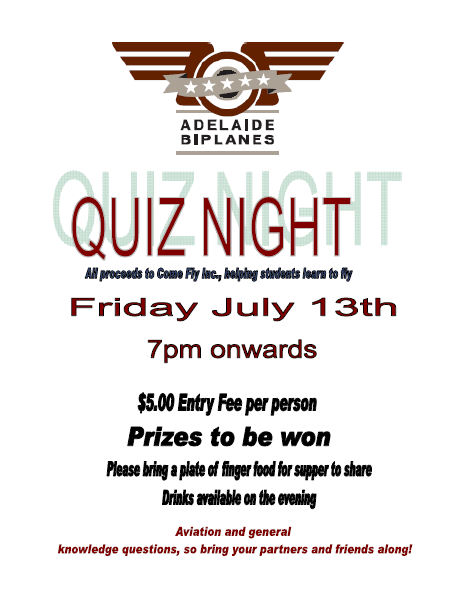 Best regards
Gaylene Smith
Adelaide Biplanes Director
Flight Office