News releases – Jay Weatherill
The State Government says it has reached an in principle deal with China Southern Airlines for direct flights between Adelaide and Guangzhou, to begin as early as December this year.

This will be the first direct flights to be established from mainland China to Adelaide – Cathay Pacific currently operates flights to Hong Kong – and the second major airline to commence international flights to Adelaide in 2016.

Three direct flights per week from mainland China to Adelaide would create more than 135 local jobs, and have flow-on benefits for our hotels, our restaurants and tourism operators across the State.

The final agreement is expected to be signed between the State Government and China Southern in Guangzhou later this week.

Background

China Southern is the world's third largest airline based on passenger movement, operating more than 680 domestic and international aircraft with approximately 260 international flights every day to 72 destinations around the world.

In April, the State Government signed a Memorandum of Understanding with China Southern in Guangzhou to promote tourism between South Australia and China to promote each others markets. Footage of Premier Weatherill and Tourism Minister Leon Bignell at the signing is available here.

With the addition of China Southern, four new international routes have begun flying out of Adelaide since 2011, with international seat numbers increasing by 66 per cent.

In the 12 months to March 2016, China was the state's fourth largest tourism market (34,000 visitors) – a five-fold increase from a decade ago.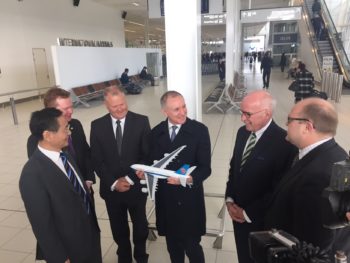 Quotes attributable to Premier Jay Weatherill
Having a direct flight from mainland China will create jobs that extend well beyond Adelaide Airport – helping our tourism and hospitality sectors to take advantage of this growing market.
We are expecting that the agreement to establish direct flights between Adelaide and Guangzhou will be signed in the coming days – and that flights would begin in December this year.
Our partner Adelaide Airport Limited has been instrumental in our discussions with China Southern, and we are grateful for their commitment to working with us to grow the number of international services coming into Adelaide.
Tourism is one of South Australia's key economic drivers, which is why the State Government committed another $35 million over two years in the 2016/17 State Budget – this is in addition to the $35 million committed over two years in last year's Budget.
The recent introduction of daily flights from Qatar Airways into Adelaide has also opened connections to more than 140 destinations including 25 European cities, with Qatar flights estimated to create more than 220 jobs across the state.
Quote attributable to Adelaide Airport General Manager Mark Young
Our partnership approach with Government is critical to working with our airline partners and we believe that together with the State Government we have developed a strong relationship with China Southern.
Quotes attributable to Ian Horne, Chief Executive, Australian Hotels Association SA
A successful completion of arrangements with China Southern will immediately elevate and increase confidence in Adelaide as a viable and appealing destination to invest in terms of attracting the next generation of International style accommodation.
Every international style hotel creates many construction jobs but importantly leaves a legacy of many new permanent positions after completion.
Access to China is the next goal is confirming Adelaide as a legitimate international visitor destination.
Friday May 13, 2016
Adelaide Airport has welcomed Jetstar's announcement today that it will fly direct between
Adelaide and the Sunshine Coast from September this year.
The new services, the first direct flights between Adelaide and the Sunshine Coast since
2008, will operate three times a week from 30 September 2016 in time for the SA school
holidays.
The new Jetstar route out of Adelaide is the second to be introduced in the past six months,
with Adelaide-Avalon (Melbourne) flights having started in March this year.
Jetstar's new flights represent over 56,000 additional seats between Adelaide and
Maroochydore each year.
Adelaide Airport Managing Director, Mark Young, said it was really pleasing to see Jetstar
continue to expand its network out of Adelaide.
"South Australians will now be able to easily access popular holiday destinations such as
Noosa, Maroochydore and Mooloolooba," Mr Young said.
"We also expect there will be plenty of Sunshine Coast residents who will want to experience
what Adelaide has to offer including our world class wine and seafood, and natural
experiences such as Kangaroo Island.
"The service will also connect the significant number of friends and families who live in the
two regions."
Return services between Adelaide and the Sunshine Coast will be operated using Jetstar's
180-seat airbus A320 aircraft on Wednesday, Friday and Sunday.
Jetstar is offering a special one way fare on select services to launch the new service.
Hon Leon Bignell MP
Minister for Tourism
Tuesday May 3, 2016
Qatar Airways lands in Adelaide
Qatar Airways' inaugural flight to South Australia – using the world's most modern aircraft –
will land at Adelaide Airport this afternoon.
The much-anticipated direct service from Doha to Adelaide marks the start of the airline's daily
flights to Adelaide, which are estimated to generate an extra $41 million into South Australia's
visitor economy and create 228 jobs across the state.
It will also be the first time the Airbus A350-900 has ever landed in Australia.
Qatar Airways Group Chief Executive, His Excellency Mr Akbar Al Baker, will lead a
delegation from Qatar on the inaugural flight.
Background
Adelaide is the fourth Australian city – along with Sydney, Melbourne, and Perth – to be
served by Qatar Airways, which was named Airline of the Year by UK-based airline
consultants Skytrax for the third time in 2015.
The daily flight scheduled will be:
DOH-ADL QR914 departs 2055; arrives 1625 (+1 day)
ADL-DOH QR 915 departs 2130; arrives 0450 (+1 day)
Quotes attributable to Tourism Minister Leon Bignell
I'm delighted to welcome Qatar Airways to Adelaide. The new daily direct service is a great
opportunity for South Australia to further strengthen our growing international reputation as a
must-see tourism destination.
Not only will the Qatar Airways flights bring tourists to South Australia, but the return flights
present the chance to fill the A350-900's cargo holds with as much as 80 tonnes of premium
South Australian produce.
Recent figures show international visitors to our state are up by almost 10 per cent to the year
ending December 2015, and they spent $897 million while they were here.
International visitors are critical to the state's economy, and the State Government is committed to continuing to increase the number of international visitors to help us achieve our goal of an $8 billion tourism industry by 2020.
Quotes attributable to Qatar Airways Group Chief Executive, His Excellency Mr Akbar Al Baker
Adelaide is an important addition to our route map, and we are pleased to offer the people of South Australia the most modern aircraft in the industry to connect them with 38 countries in Europe, 23 countries in Africa, and 27 destinations in the Middle East.
Quotes attributable to Adelaide Airport Managing Director Mark Young
The inaugural arrival is excellent news for both the local tourism industry and South Australians travelling abroad.
The Qatar Airways Doha-Adelaide service opens up a brand new link with the Middle East, and provides excellent connections further afield such as with Europe and the UK.
We're excited to be the first airport in Australia to welcome the new-generation Airbus A350-900 aircraft – one of the world's most technologically advanced twin-engine aircraft.
Editor's note:
Minister Bignell and Adelaide Airport Managing Director Mark Young will be available for comment about the inaugural Qatar Airways flight at 11.45 am today, at the Airport (just past the security area).
The flight is scheduled to arrive at 4.25 pm. Newsrooms should contact the Adelaide Airport PR team to make arrangements to cover the arrival (Mark Williams – 0401 147 558).
Minister Bignell will be available at Adelaide Airport tonight for TV news live crosses, if required.
Monday 26 October, 2015
Adelaide Airport today announced it has expanded its aviation business development team in a push to further develop international opportunities and attract new airlines to South Australia. The move is part of a wider restructure of the airport's executive management team.
Managing Director, Mark Young, said Adelaide Airport has appointed Jonathan Cheong to a new role as Head of Aviation Business Development, reporting to Brenton Cox the Executive General Manager Corporate Affairs.
"Jonathan will play a very important role as we increasingly look to build on our recent successes in attracting new international services to Adelaide," Mr Young said.
"We have our eyes set firmly on new markets such as China and the US, and Jonathan's experience and knowledge will be material in helping us to attract new aviation business."
Jonathan was mostly recently working in an aviation business development role for Sydney Airport. He has also worked with Sichuan Airlines and Virgin Atlantic as well as aviation consultancy Aspirion. Jonathan speaks fluent Mandarin, Cantonese, Bahasa Malaysia, Bahasa Indonesia and Hokkien in addition to English.
Mr Young said current Executive General Manager Business Development, Mal Andrews, would be taking on a new Head of Aviation Support role and, prior to his retirement in September 2016 after 43 years in the aviation industry, Mal will be advising on specific aviation matters and terminal expansion.
"Mal has been instrumental in attracting major airlines such as Emirates and Qatar Airways to Adelaide, and has grown the incumbent domestic and international market to the point we were Australia's fastest growing capital airport for the past 4 years. He leaves a great legacy."
Adelaide Airport today also announced the appointments of Craig Shute as the new Executive General Manager Property, and Emma Boulby as the new Executive General manager Airport Operations.
Mr Shute, a highly respected property professional, is returning to Adelaide from Hong Kong to take up his new position. He has been Senior Managing Director for Hong Kong, Macau and Taiwan for global real estate services business CBRE. He will take up the new role in February 2016.
Mr Young said Craig's appointment comes at an exciting time for the company, which last year announced its 30-Year Vision for growth including the creation of a new Airport Business District.
"Craig will play a significant role in driving our plans to create our new Airport Business District, which will be a globally connected, next generation hub with designated industry clusters," he said.
Craig's impressive career with CBRE spans 17 years. He joined the Hong Kong team as Managing Director in August 2008, following similar Managing Director positions with CBRE in Adelaide, San Diego and Las Vegas.
Mr Young thanked current Executive General Manager Property, Ken May, for his outstanding work in managing the Adelaide and Parafield Airport's property profile, which has grown significantly over the past 16 years. This includes such cornerstone developments as IKEA, Harbour Town, Burbridge Business Park and Masters, and in leading the master planning process and developing terminal retail opportunities. Ken will remain with Adelaide Airport to advise on a number of significant projects prior to his retirement in late 2016.
New Executive General Manager Airport Operations, Emma Boulby, has been Project Manager at Adelaide Airport since 2013. Her previous experience includes Business Development Director for G4S in the UK, and Head of Airline Business Development at London's Gatwick Airport.
Vince Scanlon has moved to an expanded role as Executive General Manager Planning and Infrastructure. Vince will now principally be focused on the airport's future infrastructure requirements as it looks to growth as part of its 30-year Vision.
Aero Clubs
Is your Aero Club holding an event such as a Fly-in and you would like to publicise on fiveDME? Just contact us at info@5dme.net we'd be happy to help.
See our
Event Coverage
page.
Advertise with fiveDME
You can promote your business to a very active community. Ad placement options available and we'd be delighted to discuss your requirements.
Find out more!