This material is compiled from sources including the Office of Air Force History, the RAAF Museum and the Australian War Memorial.  The Office of Air Force History is not responsible for pre-1921 items.  Whilst every effort is made to confirm the accuracy of the entries, any discrepancies are solely the responsibility of the originator.
31 Aug  37 –  Albert Medal awarded for attempted rescue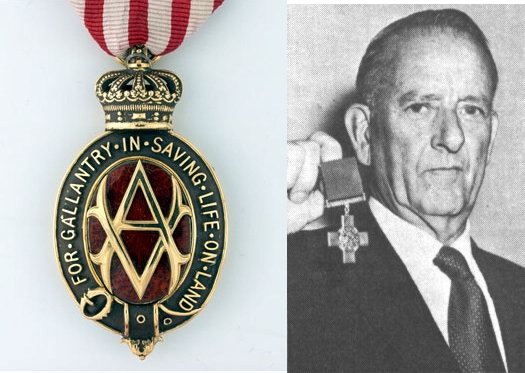 Albert Medal                                           McAloney with George Cross
On this day, a formation of three Demon aircraft flew from Laverton to Hamilton, in western Victoria, where they landed during the local Show. Shortly after 3.15 pm, the aircraft prepared to depart. As the second machine took off, the pilot attempted a climbing turn but stalled and crashed from a height of 200 feet. The fuel tank burst on impact and the Demon began burning fiercely. The observer in the aircraft still on the ground, AC1 W.S. McAloney, witnessed events and leapt to the rescue. Running into the flames, he attempted to extract the two crewmen before himself being dragged away with severe burns.   On 4 February 1938, McAloney was awarded the Albert Medal for Gallantry in Saving Life on Land –– an award unique in the annals of the RAAF.  He served on in the RAAF, retiring as a Wing Commander in December 1966. When the Albert Medal became obsolete in 1972, McAloney's award was converted to the George Cross.
Media reporting of Feb 38 here:  http://trove.nla.gov.au/ndp/del/article/17438931 and some other AWM history here:  http://cas.awm.gov.au/item/P04794.001/
31 Aug 44 –  Peak wartime strength reached
On this day, the RAAF first attained its highest strength during WW II of almost 182 000 personnel (162 846 males and 19 031 females). The Service stayed at this level for the next six months, and on 28 February 1945 still stood at 181 976 (163 336 males and 18 640 females). Among the males, 20 304 were officers and 143 032 were other ranks; 11 277 aircrew and 129 777 ground staff were serving in the South-West Pacific Area, including Australia, while 14 938 aircrew and 3499 ground staff were serving in other theatres, and the rest were missing or prisoners. Of the females, 495 were nursing sisters in the RAAF Nursing Service and 18 145 were members of the Women's Auxiliary Australian Air Force (including 629 officers).  The Air Force declined in size from this point and, by the Japanese surrender in August 1945, was down to 173 622.
  More on the WAAAF here:   http://trove.nla.gov.au/people/547356?c=people
31 Aug 45 – 7EFTS disbanded in Tasmania

7EFTS, 1941                                                             C-47s delivering Christmas mail to 7EFTS
On this day, No 7 Elementary Flying Training School (EFTS), located at Launceston's Western Junction airport, was disbanded.  The School, Tasmania's only WW II flying base, was established on 29 August 1940 and commenced  flying training with 11 Tiger Moths the following month.  A satellite field at Nile, seven and a half miles south of Western Junction, was completed and by the end of October 1944, 1801 trainees had passed through the unit and aircraft strength was approximately 60 Tiger Moths. The base was regularly visited by Airspeed Oxford aircraft from No 1 Operational Training Unit at Bairnsdale, Victoria as well as No 67 Squadron Ansons conducting anti-submarine patrols over Bass Strait and environs. During December 1944, training was suspended at Western Junction, but it was not until 28 March 1945 that flying ceased, and the aircraft were prepared for storage.
31 Aug 50 –  Transport pilot lost off Malaya
On this day, Pilot III (Flight Sergeant) G.J. McDonald of No 38 Squadron was lost when a Dakota transport from No 110 Squadron, RAF, crashed into the sea about 150 miles off the coast of Trengganu, Malaya.  He was copilot in the aircraft which took off from Changi airfield in Singapore (where No 38 Squadron had arrived in June to support British operations during the 'Emergency') at 4 am on a routine courier flight to Hong Kong.  When the Dakota failed to make a scheduled fuel stop at Saigon, a large-scale air search commenced. This produced no sightings, but about 4 am the next morning a naval launch picked up a British Army officer who had been a passenger on the aircraft and was the sole survivor from its crash. The search was called off at 6.30 pm on 1 September and that evening McDonald was classified as 'missing believed killed'.
RAF 110SQN history here:   http://www.raf.mod.uk/history/110squadron.cfm
Aircrew behaving inappropriately – an occasional series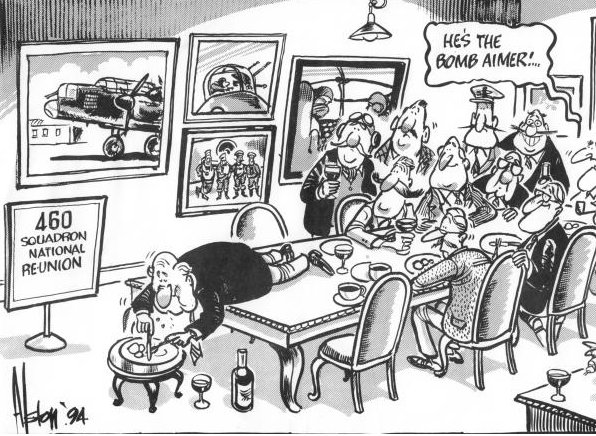 Shortly after CO 460 Squadron's arrival at Breighton in the UK, two British police constables called on him to devise some way of overcoming the disappearance of push bikes from outside the Black Swan ('Dirty Duck') and the Seven Sisters (the 'Seven [redacted]') at closing time, only to be picked up by the rightful owners outside the main gate into the station next morning.   After a long discussion, at which general agreement was reached that everything must be done to stop this wanton pilfering, and the Air Force bikes would be painted all white, the two constables were shown to the door, beside which their bikes had been stood.  But alas their journey had been in vain, both bikes had vanished!!
Courtesy Department of Defence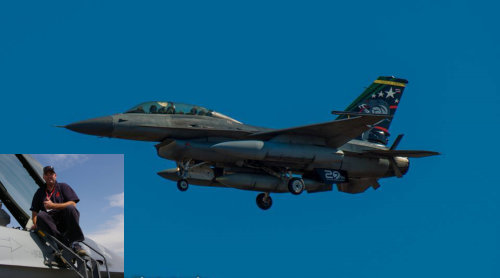 One of our fiveDME photographers, Neal Billett is at Pitch Black in Darwin. Keep a lookout on our FaceBook page for images and we'll do a full report when he gets back. https://www.facebook.com/fiveDME/?fref=ts
Adelaide Airport has welcomed the signing in Guangzhou today of an official agreement with China Southern for direct flights between Adelaide and Guangzhou from December this year.
The new services, the first direct flights between Adelaide and mainland China, will operate three times a week from 12 December 2016 in time for the summer peak period.
The new route out of Adelaide will utilise an Airbus A330-200 aircraft, offering economy, economy-plus, business and first class seating options.
China Southern's new flights represent more than 1300 seats to and from Guangzhou each week.
Adelaide Airport Managing Director, Mark Young, said the airport was delighted to attract a mainland China service, further expanding Adelaide's international network.
"We expect this new service will create significant inbound and outbound tourism opportunities as well as attractive export links into one of China's largest cities," Mr Young
said.
"We're aware that there is strong demand from Chinese visitors for experiences that Adelaide and South Australia have to offer including our world class wine and seafood, and
natural experiences such as Kangaroo Island.
"The service will also connect the significant number of friends and families who live in the two regions."
Guangzhou, formerly known as Canton, is China's third largest city and its busiest trade and transport hub.
Services from Guangzhou on CZ663 will depart at 10.00pm on Saturday, Monday and Wednesday and arrive in Adelaide at 9.30am the following day.
Services from Adelaide on CZ664 will depart at 11.00am on Sunday, Tuesday and Thursday, arriving in Guangzhou at 5.40pm on the same day.
News releases – Jay Weatherill
The State Government says it has reached an in principle deal with China Southern Airlines for direct flights between Adelaide and Guangzhou, to begin as early as December this year.

This will be the first direct flights to be established from mainland China to Adelaide – Cathay Pacific currently operates flights to Hong Kong – and the second major airline to commence international flights to Adelaide in 2016.

Three direct flights per week from mainland China to Adelaide would create more than 135 local jobs, and have flow-on benefits for our hotels, our restaurants and tourism operators across the State.

The final agreement is expected to be signed between the State Government and China Southern in Guangzhou later this week.

Background

China Southern is the world's third largest airline based on passenger movement, operating more than 680 domestic and international aircraft with approximately 260 international flights every day to 72 destinations around the world.

In April, the State Government signed a Memorandum of Understanding with China Southern in Guangzhou to promote tourism between South Australia and China to promote each others markets. Footage of Premier Weatherill and Tourism Minister Leon Bignell at the signing is available here.

With the addition of China Southern, four new international routes have begun flying out of Adelaide since 2011, with international seat numbers increasing by 66 per cent.

In the 12 months to March 2016, China was the state's fourth largest tourism market (34,000 visitors) – a five-fold increase from a decade ago.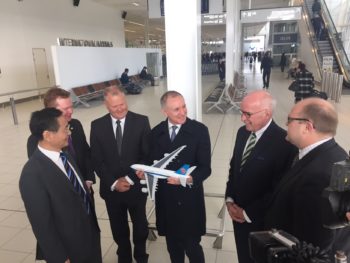 Quotes attributable to Premier Jay Weatherill
Having a direct flight from mainland China will create jobs that extend well beyond Adelaide Airport – helping our tourism and hospitality sectors to take advantage of this growing market.
We are expecting that the agreement to establish direct flights between Adelaide and Guangzhou will be signed in the coming days – and that flights would begin in December this year.
Our partner Adelaide Airport Limited has been instrumental in our discussions with China Southern, and we are grateful for their commitment to working with us to grow the number of international services coming into Adelaide.
Tourism is one of South Australia's key economic drivers, which is why the State Government committed another $35 million over two years in the 2016/17 State Budget – this is in addition to the $35 million committed over two years in last year's Budget.
The recent introduction of daily flights from Qatar Airways into Adelaide has also opened connections to more than 140 destinations including 25 European cities, with Qatar flights estimated to create more than 220 jobs across the state.
Quote attributable to Adelaide Airport General Manager Mark Young
Our partnership approach with Government is critical to working with our airline partners and we believe that together with the State Government we have developed a strong relationship with China Southern.
Quotes attributable to Ian Horne, Chief Executive, Australian Hotels Association SA
A successful completion of arrangements with China Southern will immediately elevate and increase confidence in Adelaide as a viable and appealing destination to invest in terms of attracting the next generation of International style accommodation.
Every international style hotel creates many construction jobs but importantly leaves a legacy of many new permanent positions after completion.
Access to China is the next goal is confirming Adelaide as a legitimate international visitor destination.
Friday May 13, 2016
Adelaide Airport has welcomed Jetstar's announcement today that it will fly direct between
Adelaide and the Sunshine Coast from September this year.
The new services, the first direct flights between Adelaide and the Sunshine Coast since
2008, will operate three times a week from 30 September 2016 in time for the SA school
holidays.
The new Jetstar route out of Adelaide is the second to be introduced in the past six months,
with Adelaide-Avalon (Melbourne) flights having started in March this year.
Jetstar's new flights represent over 56,000 additional seats between Adelaide and
Maroochydore each year.
Adelaide Airport Managing Director, Mark Young, said it was really pleasing to see Jetstar
continue to expand its network out of Adelaide.
"South Australians will now be able to easily access popular holiday destinations such as
Noosa, Maroochydore and Mooloolooba," Mr Young said.
"We also expect there will be plenty of Sunshine Coast residents who will want to experience
what Adelaide has to offer including our world class wine and seafood, and natural
experiences such as Kangaroo Island.
"The service will also connect the significant number of friends and families who live in the
two regions."
Return services between Adelaide and the Sunshine Coast will be operated using Jetstar's
180-seat airbus A320 aircraft on Wednesday, Friday and Sunday.
Jetstar is offering a special one way fare on select services to launch the new service.
Aero Clubs
Is your Aero Club holding an event such as a Fly-in and you would like to publicise on fiveDME? Just contact us at info@5dme.net we'd be happy to help.
See our
Event Coverage
page.
Advertise with fiveDME
You can promote your business to a very active community. Ad placement options available and we'd be delighted to discuss your requirements.
Find out more!