NOTE: 15-10-14, Video has been updated to extend the aerobatic sequence.

Chris Sperou and Warren Stewart recently performed at the Oysterfest in Ceduna South Australia. David Wilkie (5DME Cameraman) was there and he recorded some amazing footage of the display. There's some nice formation sequences followed by the dual and solo displays. So, if you've ever wanted to sit in the pilot's seat of an aerobatic aircraft, just hang on tight and take a look.


Chris Sperou Oysterfest 14 v3 Pilot View from Video Magic Productions on Vimeo.
We'll be putting more footage together down the track a bit for our Aviation Legends series.
The Short Stories from the old 5DME web site are now in blog format on this site. They are in the "SHORT STORIES" category. If you have these bookmarked, please update the links as the old site will be shut down sometime within the next month.
We've been adding the short stories to the new web site. As a result you may see these appear in the blog out of order. New stories will still appear at the top so news items will still be prominent. Should you wish to see a specific item please select from the categories to the right (in sidebar).
On Saturday 1st of November 2014 the Clare Aerodrome will be holding its Grand Opening.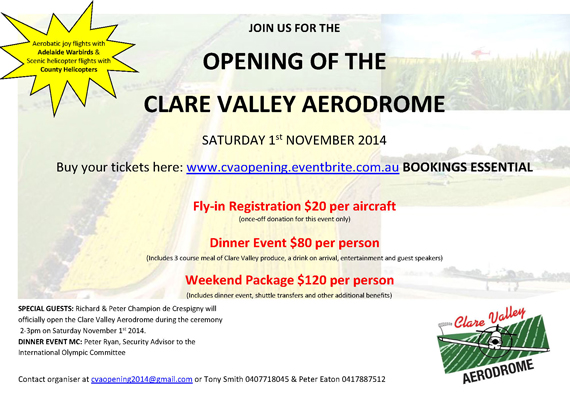 It is great to see local aerodromes coming to life around South Australia and the 5DME team will be there to record the event.
You can visit the Clare Valley Aerodrome web site at http://www.clarevalleyaerodrome.com.au/
By tickets to the event at http://www.cvaopening.eventbrite.com.au